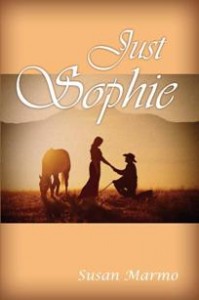 Just Sophie
by Susan Marmo
Genre: Historical Romance
Word count:78,500
Of all the things Montana rancher Bryce Fontaine expected to find hiding in his hayloft, a disheveled, beauty with sensuous freckles and blazing red hair, was not one of them.
The terrified, yet feisty girl was obviously running away from something. Bryce ignores his past demons and listens to the undeniable and unsuspecting pull of his heart toward Sophie. He takes charge of protecting Sophie from the man she claims murdered her family and is threatening to force her into a marriage bordering on sexual slavery.
The love they find for each other proves to be stronger than the uncertainties of their future as they bind together to defeat the monster that pursues them.
Surprises abound in this fast paced love story that will keep you spellbound until the last page.
This book is available from Amazon US and Amazon UK.
Susan, how did you come up with the title for your book? Does it have any special meaning?
When you can only count on yourself, it's Just you. And Sophie had no one. She had nowhere to turn, no one to ask for help. And to the villain, no one else would do – Just Sophie – that was all. It's a lonely title, but not a lonely ending.
Who was your favorite character and why?
Sarah. Because Sophie and Bryce are so serious and damaged, Sarah was the comedy. She was also everything Sophie was not. Which led to some interesting self-reflections on Sophie's part.
Does your book have any underlying theme, message, or moral?
There is no weakness in asking for help. The love of a mother is limitless. Never underestimate your own strengths. Life is a risk but it must be lived.
What would/could a reader or reviewer say about this book that shows they "get" you as an author? 
I try and write real characters. Someone you can relate to in their struggles. If a reader can identify with someone in my book, I feel like I have succeeded.
Give us an excerpted quote from your favorite review of this book:
"What a great read……. so many twist and turns ….loved the characters ….. I can't wait to read her other book definitely a follower."
 Where can people learn more about your writing?
http://susanmarmo.com/