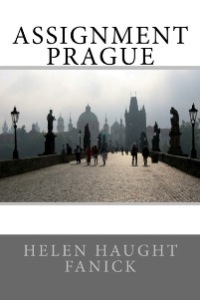 Assignment Prague
by Helen Haught Fanick
Genre of this Book: Historical Espionage
Word count: 64,000
Anton Janak is a dedicated member of the Czechoslovakian Resistance working against the Nazis, and he values anyone who can help his efforts. But when he learns that the young spy sent by the OSS to Prague is a woman, he has misgivings about working with her. He had expected a man—a man who could handle his assignment with the help of Janak and his fellow Resistance workers. It doesn't take long, however, for Janak to realize the beautiful blonde spy has enough daring and resourcefulness to do what it takes in the occupied city. The Nazis are everywhere, but Tereza's knowledge of Czech and German allows her to fit right in.
Both of them have an unspoken determination to keep their relationship professional, to keep distractions at a minimum, but is that going to be possible when every day might be their last? The bond that develops between them can only be destroyed by death, but that's a real possibility for covert activists in Nazi-occupied Prague.
This book is available from Amazon.
Helen, how did you come up with the title for your book? Does it have any special meaning?
The title says it all – an OSS agent is assigned to Prague.
Who was your favorite character and why?
Anton Janak is my favorite character. He's attractive, mature, a patriot, he loves poetry, and he looks after his aunt.
Does your book have any underlying theme, message, or moral?
I'd say the theme of Assignment Prague is that old cliché, Love Conquers All.
What would/could a reader or reviewer say about this book that shows they "get" you as an author?
They could say the intensity with which I write shows I'm fascinated by my subject.
Give us an excerpted quote from your favorite review of this book: 
"An excellent story of wartime Prague"
Where can people learn more about your writing? 
https://www.facebook.com/AuthorHelenHaughtFanick