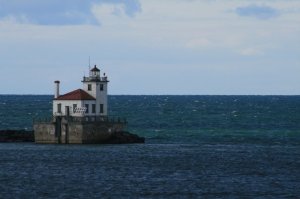 Mr. Grogan had been the keeper at the lighthouse for thirty years before they cut off the funding.
They said we didn't need the lighthouses anymore – said what with the GPS and the satellites and computers, lighthouses was a waste of money.
Old Grogan stayed. Kept his watch as always. It was a good thing, too. When the hurricane hit, all that fancy equipment failed. Only the beacon in the lighthouse worked. Funny thing is, it shouldn't have worked at all…
In 250 words or less, tell us a story incorporating the elements in the picture. The 250 word limit will be strictly enforced.
Please keep language and subject matter to a PG-13 level.
Use the comment section below to submit your entry. Entries will be accepted until Tuesday at 5:00 PM Pacific Time.
On Wednesday afternoon, we will open voting to the public with an online poll for the best writing entry accompanying the photo. Voting will be open until 5:00 PM Thursday.
On Friday afternoon, the winner will be recognized as we post the winning entry along with the picture as a feature. Then, at year end, the winners will be featured in an anthology like this one. Best of luck to you all in your writing!
Entries only in the comment section. Other comments will be deleted. See HERE for additional information and terms.