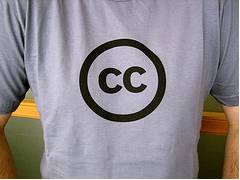 Blog posts, websites, book covers, bookmarks, trailers. For writers, we sure do use a lot of photographs.
If you're like me, your photography skills leave a lot to be desired. Luckily, there are some inexpensive (even free) options available, but that doesn't necessarily mean we can download and use willy-nilly.
More often than not, there are some requirements we must meet in order to use even free photographs. Otherwise, we might find ourselves on the wrong side of a copyright infringement suit.
Creative Commons is my favorite place to search, because they make it easy to find free photos, artwork, music, and audio. They have very specific requirements for use, however. Let's walk through the process.
You'll first see this screen: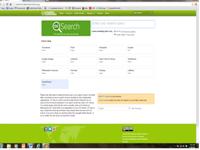 Just enter your search query (for the photo at the top of this post I entered, "Creative Commons Logo"), and choose the site you want to search. I chose Flickr, which brought up a screen full of Creative Commons logos. I clicked on the t-shirt above and was taken here: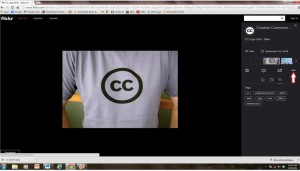 This screen shows both the name of the photograph and the name of the photographer. I made a note of both, because I'll need them for later.
But first, Creative Commons says it's showing me free photos, but I need to make sure. After all, it's not Creative Commons who could be sued; it's me. On the far right of the screen there are three little dots (see arrow above). I clicked on those for a dropdown menu and selected "Download/All Sizes," which took me here: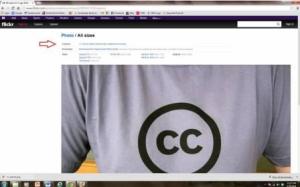 In small print at the top (see arrow above) is the word "Licenses." I can see that the photographer, CreativeCommoners, has some rights reserved. I click on the link to see what, if anything, I'm allowed to do with this photo. That takes me here: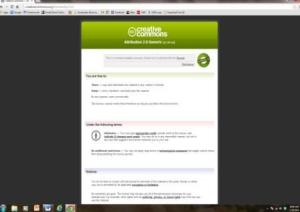 The photographer has made the photo available under a Creative Commons 2.0 Attribution. That means I can use and even adapt the photo for any purpose, even commercially, but only if I give proper attribution. I must acknowledge any modifications, give appropriate credit, and provide a link to the license. For example (the brackets are just to describe what I've done and wouldn't be included in the actual citation):
CC Logo Shirt [photo name], by CreativeCommoners [photographer name], available here [photo link]: http://www.flickr.com/photos/creativecommons/2900307100/ under a Creative Commons Attribution 2.0. More licensing information here [link to license]: http://creativecommons.org/licenses/by/2.0/
I didn't make any changes to the photo, but if I had I might have tagged on something like, "Photo cropped from original."
If I used a Creative Commons licensed photo for a book cover, I'd put the attribution on the copyright page. If I used it in a blog post, I'd include the information with the post. The attribution must be included wherever you used the photo, music, audio, etc.
Not every item found through Creative Commons is under an attribution license, so it's important to check. Some have all rights reserved (meaning they can't be used without explicit permission obtained from the artist), and some are in the public domain, meaning no one owns the copyright and anyone can download and use them for any purpose. It isn't necessary to "cite" public domain works, but I usually do, just so there's no question regarding copyright. I use the same format used for Creative Commons attributions but with a link to Public Domain Mark 1.0: http://creativecommons.org/publicdomain/mark/1.0/
Although it isn't required, I do the same for Microsoft Word ClipArt, with a link to that license: http://windows.microsoft.com/en-us/windows-live/microsoft-services-agreement
It only takes a moment, and I'm a fan of proactive versus reactive. If questioned (as happened recently with a book trailer), it's nice to have information in hand in order to quickly resolve any issues that might arise.