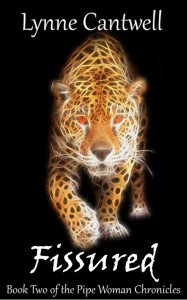 Fissured: Book Two of the Pipe Woman Chronicles
by Lynne Cantwell
Genre of this Book: urban fantasy/paranormal romance
Word count: 58,364
If anything can go wrong…
It's not bad enough that Naomi Witherspoon is second-guessing her relationship with her new boyfriend, Ute shapeshifter Joseph Curtis. Now she's been attacked by a jaguar in downtown Denver. And somebody has built a hydraulic fracturing operation down the road from their friend Charlie's ranch. An independent filmmaker named Jack Rivers has conveniently appeared, and is documenting Charlie's problems with the fracking operation. Naomi thinks Jack might be the Investigator – the fourth member of the team a Lakota Indian goddess set up to help Naomi broker peace between Jehovah and the pagan pantheons – but Jack seems more interested in causing trouble among Naomi, Joseph, and her best friend Shannon, than in helping out their team.
When the operator of the fracking facility turns out to be an old acquaintance, Naomi begins to wonder how many Tricksters it takes to make a divine deal….
This book is available from Amazon, Smashwords, and Barnes & Noble.
Lynne, how did you come up with the title for your book? Does it have any special meaning?
This book has parallel story lines: the Investigator arrives, and he seems to want to fracture Naomi's relationships with her friends; and Naomi's friend Charlie has a new neighbor in a fracking facility. "Fissured" covers both the interpersonal and environmental story lines.
Who was your favorite character and why?
It's always fun to write in Naomi's voice, but I think Joseph was my favorite character in this book. He shares a fair amount of his back story here, and then Loki convinces him to really cut loose at the end.
 Does your book have any underlying theme, message, or moral?
Urban fantasy isn't supposed to be serious stuff. But I hope I got across the dangers inherent in hydraulic fracturing, or fracking, including the lack of government regulation and how that endangers our environment. It's become a hot topic since I wrote the book. Who knew I was trendy?
What would/could a reader or reviewer say about this book that shows they "get" you as an author?
How about this: Well-written and well researched. And while the series arc implies an eventual showdown between God and the pagan pantheons, the author is not interested in bashing Christianity.
Give us an excerpted quote from your favorite review of this book:
Very adroitly done—this author is a master of her craft. If you like books that provide a slightly different viewpoint on spirituality, then definitely check this series out.
Where can people learn more about your writing?
http://hearth-myth.blogspot.com