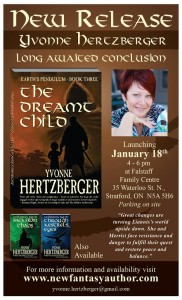 On January 18th I held a launch party for the final book in the Earth's Pendulum trilogy, The Dreamt Child. I think it was a success. You may decide if you agree with me when this is finished. No, no, you are not required to tell me where I messed up. It's OK. Others already have. Just kidding.
As this was the third book, I have presumably learned a few things along the way. Now I'd like to share that vast wealth of knowledge with the rest of you. No, seriously I hope that this post will help some newbies get there more quickly than I did and possibly add some new thoughts for those who are on this same journey with me.
My first item of wisdom suggestion is that you need to begin planning for the big day long before the actual event. Marketing and promotion are often the things we hate and many of us tend to procrastinate about. Not a good idea in the case of book launch parties – or anything else for that matter.
About two months before the book was expected to be out I scouted out venues and booked the site. In my case it was a large hall in an old heritage school close to downtown.  I loved it as it even had a kitchen I could use, but that was by no means essential. I was lucky. Often the venue is a local bookstore and space may be limited.
With the hall and the date settled I turned my attention to promotion. I contacted my printer and, after a bit of back and forth with proofs and corrections, ordered 30 beautiful posters and 500 glossy bookmarks. Both had the covers of all my books on them, the details of the launch, links to where to find me online, and a short blurb about the current book. As soon as they arrived I began handing out bookmarks to everyone I had the courage to approach. That was the hardest part for me. I am great at promoting others, lousy at promoting myself. Sounds familiar, right?
There is a local coffee shop where I hang out a lot. They know me there. So, with much trepidation I approached the owner and asked if she would sponsor the event by providing coffee. To my relief she agreed quite readily. (I have spent a lot there so I shouldn't have been so hesitant.)
I was very fortunate because a friend I had helped with a project insisted he would provide 'International food' that he would cook. That proved to be a bit of a logistics problem, as I had to emphasize that this was a book launch, not a charity dinner, and that people would be dropping in and not sitting down to a full meal. "Sample only," became a litany I had to repeat. The language and cultural barriers didn't help, but I did finally get through. Also, I insisted that he allow me to pay for the ingredients.
About two weeks before the launch I went all over town and asked businesses to put my poster up in prominent places. Most were accommodating, all except those that had a policy against outside promos, which were mostly the corporate chains.
I also got two local bookstores to agree to take my books on consignment, and one to buy them outright. Since I wanted to keep my price the same as at the launch, those did not make me any profit. I put it down to advertising costs.
Closer to the date, say in the last two weeks, I contacted the local paper, the local radio station, and the local TV station. All were accommodating. I had never been on TV before, but the interviewer was friendly and put me at ease (well, if you didn't look at me squeezing my hands between my knees so they wouldn't shake, lol). Have a look. It's not so bad. The timing of these interviews and articles is important. Ideally they should be the week of the event,. More than a week before is too early and people lose track. In all of these, I let people know that I would do a reading from the book at 4:30.
I know that not all authors like to read, but I actually enjoy it so was comfortable doing that. I suppose my introversion is suspended for those minutes. I suggest that you only do this if you are comfortable with it. It is by no means necessary.
I also invited the press to come and take pictures at the event. Bold moves for me but, as I said, I've learned a thing or two. To my surprise the local radio station put the event on their newscast and also showed up for a pic to post on their Facebook page. The paper also came and took a pic, which they printed with a nice caption.
Then, in the days before the big event, I set to baking some goodies to have for the guests. I also enlisted some help. Two friends to serve food, so that we could control the amounts and not run out, and my daughter to keep track of the money and numbers of guests so I would be free to sign books and greet people.
On the day of the event it took very little time to set up the room with tables, chairs, tablecloths (paper) and get the food ready to go. The event was set to begin at 3 pm. At 2:30 we all looked at each other twiddling our thumbs and wondering why we were there so early.
Results? About 60 people showed up. I sold 46 books.  That was enough to cover the cost of the books and the food. I offered the entire trilogy at a discount for those who had not purchased the first two. That proved to be a good decision. About twenty guests stayed for the reading, which really surprised me. I met a new contact who told me about another place where I could possibly sell my books and extend my reach. (note to self – follow up on that lead).
I do want to stress that the food element is not necessary and possibly even advised. Had my friend not insisted I would have skipped that part but it worked well for me. I do think it attracted more visitors but doubt it affected the number of sales.
Last words. Preparation and planning are the keys. Be brave – bold even. And it gets better with each new book.