A few months ago, a friend of mine cranked out about six blog posts in one night. I asked her why she didn't schedule them to publish once a week for six weeks. She replied, "I didn't know you could do that." Well, m'dear, it's very easy. Here's how.
If you're using a WordPress blog – it doesn't matter if you're using .com or .org, it's the same. Over in the upper right-hand corner of your admin screen, you should see this: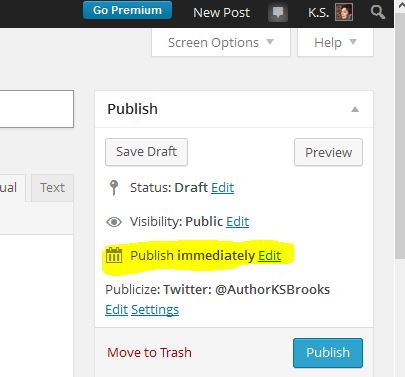 Notice "Publish immediately" is the default. (I've expertly highlighted that in yellow for you.) Click on edit and your screen will shift down, making room for the month, day, year, and time to be entered by you.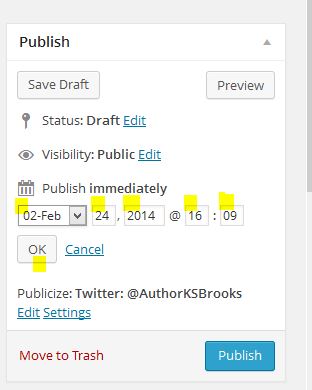 Okay, so maybe I didn't need to highlight all that for you. So sue me. In any case, after you've selected the date and time of choice, click OK. I've chosen March 1, 2014.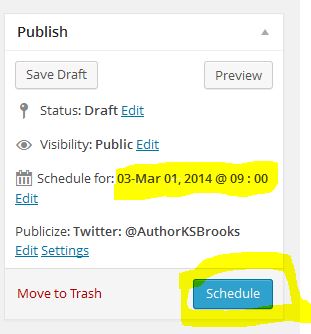 Notice how your date of choice now shows up? And, notice how "Publish" in the blue button now says "Schedule?" Shazam, you are done.
In Blogger, or Blogspot, blogs, it's also in the upper right-hand corner, but nestled inconspicuously under "Post Settings."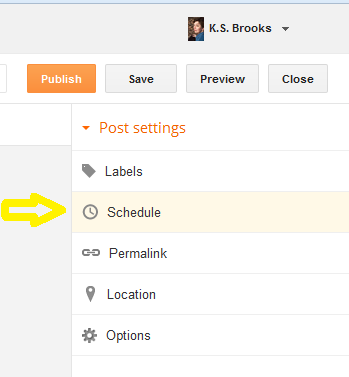 Clicking on schedule will expand that box to reveal "Automatic" and "Set Date and Time." The default will always be Automatic, so click the little button to the left of "Set Date and Time" and a calendar will drop down for you.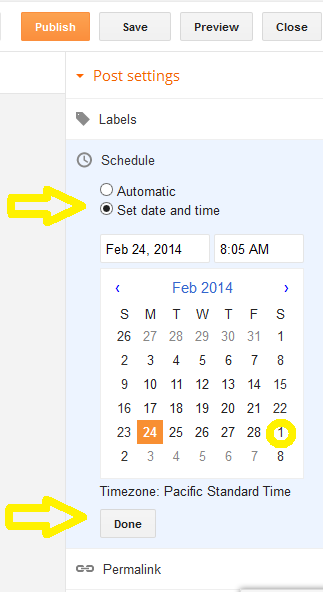 I'm going to select March 1st, and then I'm going to click done. Honestly, I prefer this to the WordPress method, because this way, I can see what day of the week it is. I like to try to schedule posts to run on the same day each week. The calendar in Blogger makes that easy. After I've chosen my date and time, I clicked "Done."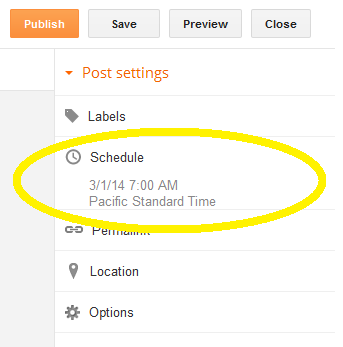 The little window above will show you that your post is scheduled for March 1. Just make certain to click SAVE.
And that's all it takes!