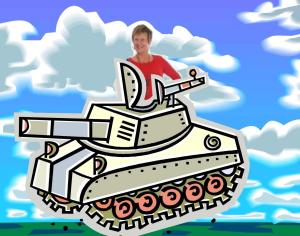 Some of my ideas for marketing might be considered a little outrageous – but this one, however wacky it might seem, could attract the right attention for a book signing.
Recently, I had the good fortune to be invited to do a book signing at a hotel. The manager who hosts a weekly cocktail party wanted to surprise guests by having me there, signing copies of the book that features his hotel. Attendance to these events has been dropping off and he wanted to make it a little more interesting.
Hubby and I stayed a few nights in the hotel ahead of the big day, because it was our wedding anniversary. As is the case with hotels, there are often clients who insist on pestering you, whether that be when you are sitting at breakfast or slumped by the pool, or attempting to enjoy a drink at the bar. They always want to ask you where you have come from and tell you about their day or where to visit while you are on holiday. My husband is not tolerant of these people at the best of times and since this was 'our time', he didn't want anyone annoying him.
After a heavy first night celebrating the aforementioned anniversary, and wearing sunglasses to hide our red eyes, we descended to breakfast in the lift. It stopped three floors above the dining room. The door opened to reveal two particularly nosey people we'd noticed the day before. They were the sort who latch onto new people and regale them with photographs of their grandchildren. My husband for no reason other than devilment, put up his hand to halt their entrance, wagged his finger and said "Nyet!" in his best Russian accent. The two people nodded at us and backed off.
We went into breakfast and hid in an alcove where no one could bother us.
Later that day, we overheard a conversation between three people below our balcony. In excited tones one of them announced there was a celebrity, flanked by a bodyguard, staying at the hotel. Well, we decided to play on that. We set off for a walk. Hubby now dressed in a black t-shirt, sunglasses and sporting an earpiece taken from my personal music player walked beside me looking fierce. We attracted a lot of attention from the sunbathers.
Someone asked the hotel manager about us. He thought he'd join in the fun. He fuelled the rumours, suggesting the guests might like to come to the cocktail party and meet the VIP. Who was it? Well, it was a surprise.
The book signing was a massive success. Most of the hotel guests came along to the cocktail party to see what the fuss was about. I sold out of copies within the first fifteen minutes and had to take orders to send books when I got back home.
The manager was delighted. His evening was a success. Guests queued to talk to me. When questioned, I explained that Hubby wasn't really my Russian bodyguard which only served to fuel the interest further as everyone thought it a brilliant wheeze and publicity trick. That led me to think hard about possibilities for making a book signing a more successful event.
I've talked before about how to have a successful book signing event. (I'm Coming Out) To make it even more successful you need to create a buzz around the event. An element of mystery or suspense can help. So, mad as they may seem, here are a few suggestions to get you thinking:
• Walk about town on the day of the book signing, surrounded by either 'body guards' or 'film crew'. Use friends, older children, relatives or anyone suitable and willing to play along. People are naturally curious if they think you might be famous. Make sure you have one or two people planted en route who will be able to tell curious members of the public, "Haven't you heard of X (your name)? They're the next hottest thing since Fifty Shades (or whatever genre you prefer). They're doing a book signing. They're expecting quite a few people to attend. Are you going?"
• Set up a team to give out flyers for the event. Ask them to dress up in appropriate attire, so if your book is about basketball, get your team kitted out in sportswear, or if it is a period drama, hire costumes (or raid your Nan's attic. There's sure to be something up there you can use). Often friends will do this for little more than a trip to the pub afterwards.
• Ask as many of your friends, neighbours, relatives as possible to support you by forming a lengthy queue outside the book signing venue a half an hour before the event and cheering loudly when you arrive in a chauffeur-driven car. (Driven by another friend.)
• Better than a chauffeur driven car is a tank, or similar. No, I haven't lost the plot! I phoned an ex-military vehicle establishment near me who said they'd be willing to drive me to an event in a small tank or a personal carrier, merely for the publicity it would create for them. You'll be surprised at how many places will be willing to help for publicity alone. I checked with some local stables who breed carthorses. Again, they said they'd happily provide a carthorse and carriage should I need them.
• Finally, how about dressing up in outrageous clothes à la Lady Gaga or similar for the event and parading down the street in them? Anyone who has the audacity to dress like a superstar must be one. You'll certainly get some raised eyebrows. I discovered wearing a leather jacket, bright orange mini skirt and thigh length boots with dangling multi-coloured earrings attracted far more attention than my usual attire of jeans and hoodie.
I'm sure you can think of other ways to create a buzz. You only need a little imagination, a few fun-loving friends and a dash of insanity.