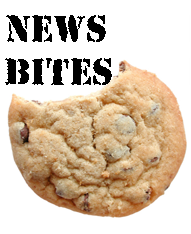 Friends, neighbors, fans, and fellow writers, it is time once again to gather 'round the smoldering tire-fire of Indieland whilst I regale you with tales of derring-do, tom-foolery, and other doings of note.
Tonight's NewsBites contains SNARK™, a non-nutritive truth varnish used in the news distilling process to enhance the crunchiness and flavor of information. Now, from around the corner and across the globe, here is some stuff that happened:
Author Lynne Shepherd says J.K. Rowling should quit writing adult fiction. Evidently, Lynne thinks if Ms. Rowling would only stop taking up shelf space, the public would squander its hard earned money on her books instead, giving her the long-deserved praise and reverence she so richly deserves. Sigh. It just doesn't work that way. This argument is another variation of the one we in the indie community usually hear: if only there wasn't so much crap out there, people would buy my book. The same flawed logic applies to both statements. The success or failure of another person does not attach to you in any way. There is room at the top and there is room at the bottom and middle. If you don't like where you are, do what you need to do to change it, but don't cast about for villains and mysterious market forces arrayed against your success. Whether you think Ms. Rowling deserves the success she has is irrelevant. Whether you deserve more success than you have is irrelevant. Success is not a meritocracy.
That said, even though I disagree with Ms. Shepherd, I do think she has a right to her opinion. Others felt her comments deserved a little more punishment than a mere calling-out and decided to one-star her books. That seems beyond the pale to me. I do not like the idea of conflating the author with the book. I hope Amazon sorts it out. Swarm reviews on a book in response to something the author said or did outside the book are meant to silence or cow people. Is that how we want to do business?
The other recent big stir had to do with an article published by self-effacing indie hero Hugh Howey on author earnings. Our own Lynne Cantwell interviewed Hugh Howey about the author earnings project.  According to Hugh's data, indies are gnawing away at the profits of big ink publishing to a far greater degree than the good old boys are willing to admit. As Lynne pointed out, big ink and co. came out swinging, disputing Hugh's data and casting aspersions on the idea of so many charts using the color periwinkle.
Personally, I wish Hugh would quit making charts. Maybe then, my charts would get some of the attention they deserve. Here's one I made which shows the organizational hierarchy of the New World Order after I take over: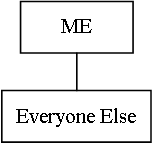 According to Publishers Weekly, BookExpo America is expanding its offering to indie authors. I am not sure exactly what that means and I don't ever go to these things. My spidey-senses tell me that big conferences where lots of little indies gather are apt to turn into hunting grounds for predatory sorts. I don't know about you, but I find this bit unsettling:
BEA show manager Steve Rosato remarked: "The addition of the Author Hub to our program will connect this community to mainstream publishing, providing access to promotion and discovery that was previously unavailable to this universe."
I run the other way when someone offers me access to promotion and discovery that was previously unavailable. But, that's me. I also don't open mail that says I might already be a winner.
The most humongous news is that the recipients for the first annual Indies Unlimited Excellence Awards have been named. Congrats to the category winners: Big Al's Books and Pals, The Passive Voice, and Writer Beware – and to all the finalists.
Finally, it looks as though books sailing under the flag of Amazon's imprints are no longer dominating the bestseller lists. Hmmm… I wonder if that's because they started using Kindle Countdown. Nah. Probably just a coincidence.
That's all for now. Tune in next time, when I ask Lynne Shepherd to quit writing articles for the Huffington Post so my articles have a chance.