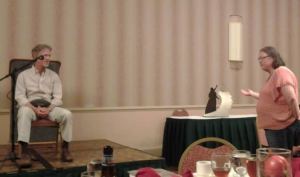 I had a brush with famous authors during my vacation. Two of them, actually. And I am pretty sure they're both still talking to me.
First, a bit of background: For the past fourteen years or so, I've been a member of kevinswatch.com, an internet discussion board dedicated to the works of bestselling fantasy author Stephen R. Donaldson. And when I say "bestselling," I'm not kidding – each of his Chronicles of Thomas Covenant the Unbeliever books have made the New York Times list.
When he began publishing his most recent series, one of our members, who lives near Donaldson, offered to set up a dinner where we could meet The Author and ask him questions about his books. (Approaching Donaldson wasn't as unlikely as it sounds; his webmaster and his beta readers are also members of the discussion board.) That gathering came to be known as Elohimfest and is now a more-or-less quadrennial event.
So a couple of weeks ago, I flew out to Albuquerque for the most recent Elohimfest. We always have some preliminaries, and one of the attendees at Thursday night's do was sci-fi author Bob Vardeman. I fell into a discussion with him about the writing business, among other things.
At the dinner with Donaldson Saturday night, he answered our questions (that's me, asking him mine) and signed books for us.
Both of them were very gracious. But they were also expecting to meet the public. And I think that's probably one of the keys to making sure you don't alienate the famous person you're hoping to meet.
Understandably, famous people want to live their lives, too, and they get tired of not being able to go out without strangers accosting them. (Back when I was in radio, a co-worker went to work as a news anchor for a local TV station. It was only after she took the job that she realized she couldn't run out to the mall in sweats and no makeup anymore because someone might recognize her and wonder why she looked like crap in real life.) So if you see some random famous person in public, even if you approach them, you should be respectful of their privacy. If you see the person at a restaurant, you can pass a note through the restaurant's wait staff, if the wait staff is amenable. That worked when we ran into one of the stars of Chuck in San Diego. If it's somewhere else – in a store, maybe, or on the street – be willing to back off if the person doesn't appear to be in the mood for interacting with a stranger. Just because you feel like you know them, it doesn't follow that they know you.
It's a little different, of course, when you run into someone famous in a more public setting, like our dinner, or a convention, or even at a party. But still, be deferential. I think one of the reasons Donaldson keeps coming back to meet with us is that we don't go all fanboy and fangrrl on him – we're polite and respectful. Well, except for that time a couple of Elohimfests ago, when one faction of the group began chanting their dislike of one of his main characters. But it was all in good fun, and The Author took it in stride. He's awesome like that.