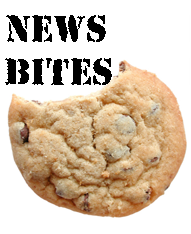 It is time once again for Indies Unlimited to carry out its charge as the champion of truth, the vanquisher of deceit, and the taster of all things bacon. Yes, the NewsBites team of investigative journalists never rests until an opportunity presents itself. No matter how high those mountains, how deep those raging seas, or how hungry those hippos, we will keep more or less steadfastly to our quest to bring you somewhat reliable infotainment. Remember, if you're not completely satisfied, you can fully refund our money.
And now, here is some news-type stuff we scrounged up and snarked all over:
A report commissioned by the UK's Authors' Licensing & Collection Society (ALCS) seems to show that income for "professional" authors has decreased. The report was based on a survey of over 2,000 writers. The findings point out a decrease of 40% between 2005 and 2013 in the number of writers who dedicate the majority of their time to writing and earned their income solely from writing. Here is the takeaway from somebody at something called the Society of Authors (SoA):
The SoA's Solomon said: "Author earnings are going down and the number of people working full-time as writers is falling because they can't make a living from it. It's very concerning. Publishers' profits are going up – our concern is that authors are getting a smaller share than they used to.
Having never heard of the SoA, I decided to do a little digging. Here is what I found on their website:
The Society of Authors is a trade union for professional writers, which has over 9,000 members. We advise on rights, fees or on any query about the business of writing, and we also provide training.

We represent authors in collective negotiations with publishers to improve terms generally, as well as lobbying on issues that affect authors such as copyright, PLR and unfair terms. We also campaign about matters of principal concern to our members.

We administer a wide range of grants and prizes such as the Authors' Foundation, which is one of the few bodies making grants to help with works in progress for established writers.
So, what I get from this is that the percent of writers able to make a living from writing decreased while the SoA was out there protecting their rights. Way to go, SoA! I have no idea why they have 9,000 members and only about 2500 people were included in this survey thingy. Don't worry though, dear indies. They are not out there protecting your rights. You are only eligible to join when you have been offered a contract from a publisher, broadcaster, or agent – you know, the people that guy just said were exploiting you.
In the mean time, Hugh Howey seems to think a union for writers would be a good idea:
Trade fiction and narrative nonfiction authors do not have any meaningful representation. There is no group busting balls on behalf of writers, and there are a lot of balls out there to be busted. Amazon, the Big 5, B&N, Apple, Google … no one is fighting these people for better terms and pay.
I guess he doesn't know about the fabulous success of the SoA in collective negotiations and what-not.
A lot of this discussion of course has been driven to the surface as sides form over the Amazon vs. Hachette dispute. Some people see Amazon as the villain, while others see Hachette as the villain. I have mostly kept quiet about this. I don't see any point in rooting for one side or the other in a battle between Godzilla and Rodan. Whoever wins will just eat you anyway. Or melt your face. Or squash you. Maybe the SoA will step in and kick both their asses.
The Amazon/Hachette kerfuffle may not be the biggest headache Jeff Bezos is facing. According to Forbes, Google is about to go into direct competition with Amazon:
And the scary part for Bezos is not that he's facing not a phalanx of brick-and-mortar retailers, but that they're being commanded by the craftiest of his rivals, Google. The search giant, Re/code says, is preparing to spend $500 million on growing Google Shopping Express to hit Amazon where it hurts: in the business of selling goods and delivering them to customers.
Ahem. Everybody is on Google Play now, right? You're welcome. Well, that's it for this time around. Join us next time, when we ask the question that's on everyone's mind: What about Yahoo?