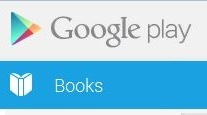 Whenever I visit various independent author forums, I'm bound to stumble across a handful of people who say they make most of their profits selling online with someone other than Amazon (Barnes & Noble, Kobo, etc.). Most recently, a person posted that they earned 50 percent of their sales from the Google Play store.
So, I decided to head on over and set up my books for Google Play. (Surely my audience is over at Google Play; that's why they're not buying the books via Amazon).
There is one important thing you need to know before you sign up for Google Play: they heavily discount your price. Unless you set your book at 99 cents, Google Play will change the price. This wonderful Kindle Boards post gives a chart explaining what price you need to set your book on Google Play to get it to be one of the standard U.S. prices. For example, you must set your Google Play price to $3.94 if you want it to sell for $2.99.
If you don't want to play this pricing game, however, Google Play is not the store for you. It's important to get your book price set correctly to avoid price-matching by Amazon (if a customer reports your book is priced lower at another site, Amazon will automatically lower your price to match it).
Now, to get your book set up on Google Play, it's a process pretty similar to other booksellers. First, you go to this site: https://play.google.com/books/publish. Navigation for the site is on a panel on the left.

You want to click on Book Catalog, then Add Book. A screen will pop up asking you if you have an ISBN. Fill this in if you have your own ISBN (not one issued by a distributor like Smashwords or Createspace). Otherwise, check the box that you don't have one, select the default template and create your book.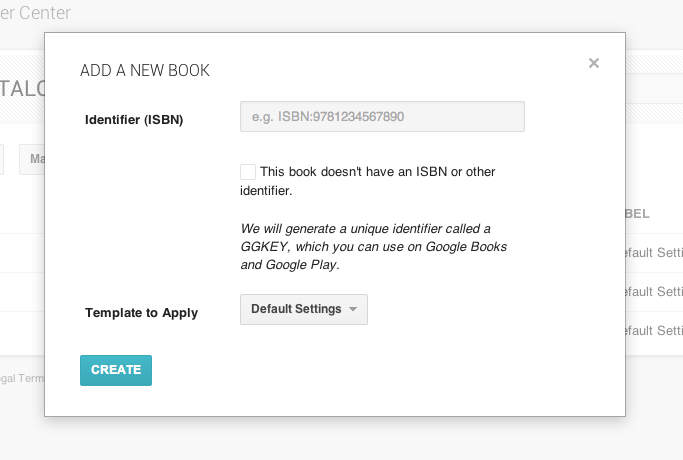 This will open up a new window with its own 4-section navigation pane: General Details, Google Play Settings, Google Book Settings and Upload Content files.
Most of this is pretty straightforward. Just fill in the information they're asking for. The only tricky part was setting the price (under Google Play Settings). You click Add price, then it asks you for the currency code, but gives you no guidance on what to put. After Googling currency codes, I put in a three-digit numerical code for US currency and that was rejected. I finally determined the code they wanted for the American dollar was USD. It seems obvious in retrospect but it's the step I got caught up on. If you click the little down arrow on the price screen, it offers you an option that seems cool (but I haven't tried): letting you give a date range for when you want your book a certain price.
You should check the box to have Google automatically configure international currencies using the base currency you chose.
Once you've finished including your book information, you'll need to fill out the remaining tabs, which have to do with collecting the information needed to get paid. Then you can click to publish your book.
Amazon clearly understands what information authors want and does a great job at providing it. Google Play is a bit archaic. You can't simply view your sales. The only way to access sales data is to download it to your computer. Also, Google Play doesn't send you confirmation emails letting you know your book is on sale or price changes are complete. While some complain that on KDP you have to republish your book each time you make a change, that process generates an automatic email letting you know when changes are complete. With Google Play, no such luck. You just have to check and see.
Google Play changes seem to be on par with the time it takes for Nookpress to make changes. I recently changed the price on Google Play for a sales promotion and it took about 12 hours for the change to go live on the site. For the purpose of writing this tutorial, I added a fake book to Google Play, so I wanted to remove it once I'd finished writing. If you ever find you want to remove a title, simply go to the Book Catalog page and click on the title you wish to remove. You should then get a screen that has labels at the top right. Click on the label that says "Live on Google Play" (if it's a book you've already published) or "Needs Action" (if you haven't yet published). That is the screen that gives you the option to remove your book from the Google Play store.
While I was excited to add another sales channel to the mix, I have not seen any sales through the Google Play store since adding my books.
[Got questions? We did. And there's no way RJ could answer them all here today. So we're running a tutorial tomorrow (April 29th) at 9 a.m. Pacific time to help take some more of the mystery out of this platform. Stay tuned! – the Admins]