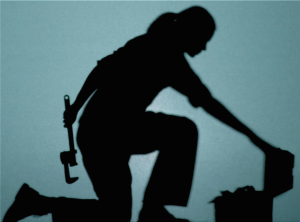 As authors, it's important for us to have a website or blog devoted to our work. A common and easy way to do this is to use WordPress or Google (via Blogger or Google Sites). Neither method requires HTML knowledge, so they're easy to use and manage. While these sites are pretty basic, we authors can use plugins (for WordPress) or widgets (Blogger) to add fancy features that would normally require us to know all sorts of programming languages (XML, HTML, JAVA) if we had to create them on our own.
So, today I'm offering up some cool plugins/widgets all authors should consider for their sites.
Social/Subscribe bar – These are bars that run across the top of a website (on every page) that let viewers subscribe to your mailing list or follow you on social media. I use Viper Bar on my own site, and love it. Users can subscribe to my mailing list or follow me on Facebook, Twitter, Google+, Tumblr and/or Pinterest. Viper Bar is nice in that it's easy to set up for mailing lists. However, if you want to add social sharing, you've got to code that yourself. I did. Because I'm so awesome, I'm uploading the exact code I used and images (logos are public domain) so you can crib it if you want (don't forget to substitute your own URLs in the indicated spots). Hello Bar is also a good option. The company used to charge for each click over 25 (so, in an odd way, it was good if you had to pay). However, I checked them out recently, and there's no fee. These are both great options, and very helpful. Our social media guru Jim Devitt has told us often that a subscriber list is key in your marketing, so having the ability for visitors to see that option whenever they visit your site is great. Viper Bar works with WordPress. Hello Bar works with any website or blog.

Social Sharing Buttons – If you have great content on your blog, you want people who visit your website to share it. So, add social sharing buttons to the bottom of your blog posts. Social sharing buttons are those little icons that, when clicked, let readers share your post on Twitter, Facebook, Pinterest, etc. There are tons of social sharing button plugins out there. I like Share-a-Holic. It has large prominent buttons that display above or below post and tell readers how many times the post has been shared via each network. Another good one is Social Sharing Toolkit. With both of these, they give you a spot to add your Twitter username. Do this. That way, when people Tweet from your website, you'll be tagged in the tweet. If you dont' do it, the companies actually tag themselves in the post (shared via @). Social Sharing Toolkit is for WordPress. Share-a-Holic works for any site.

Related Content – I've read a few articles noting that it's important to keep people at your site as long as possible. If someone stumbles upon your blog post, you don't want them to read it and leave. You want them to check out the rest of the site and get more exposure to you and your work (the lovely Lynne Cantwell explains the marketing concept of effective frequency). One way to keep people on your site is with a Related Content feature. What good plugins do is comb through your blog for related posts that might interest the reader of the current post. It displays three or four related articles at the bottom of the post, so that rather than leave your site, the reader goes, "Oooooooh! That looks interesting," and clicks the link. Ideally, related content buttons would leave your readers in fear of wetting their pants because they don't want to tear themselves away from your site. Share-a-Holic has a related content feature as part of it's plugin. I used it and found it wasn't bringing up related content. One web critique I read about the service said the "related content" feature was new and it was expected to improve. I wish them luck with that, but I moved on and got nRelate, which I love. The related content has all been relevant, and when I look at my website stats, I'm seeing people randomly viewing older articles which appear to have been suggested as related. All related content plugins use your keywords, categories and tags to help determine which content is related, so be sure to add keywords and tags to all your blog posts (if you don't the algorithms will have more trouble figuring out which content is related). There are a fair number of related content plugins; this guy offers his thoughts on the five best.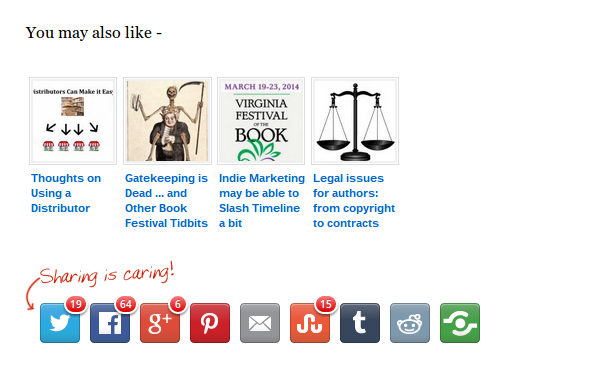 So those were the essentials. There are two optional plugins I thought I'd include. They're fun, but not musts.
Fancier Author Box – This is an optional plugin for WordPress users. It just puts abbreviated bio information at the bottom of each blog post. You could just type the info at the bottom of each post, but this plugin eliminates that extra step of doing it manually. I use it and like it. For a fee, you can upgrade to Fanciest Author Box.
Image book buy links – On your book's page, instead of writing Buy at Amazon or Buy at Barnes & Noble and making it a hypertext link, what if you had an image of all the stores' logos neatly lined up with the images serving as links? I tried doing this with html and it was a pain in the you know where. Particularly hard was getting the image sizes right and lining everything up by hand-coding it (this may be a function of my limited HTML knowledge). So, I looked it up and there are plugins that say they will do this for you. These are the three I found: Buy This Book, Totally Booked, and My Book Table. Unfortunately, after trying them out, I wasn't pleased with any of them. One looked funky and I couldn't get the other two to work with my existing site. If you're building your site from scratch, give any of these guys a try, as they seemed geared toward sites that didn't already have book pages. If your site's already built, this may be a frustrating process that isn't worth it (based on my own experience and the reviews on the product pages). Do read the reviews before trying any of these, as one plugin actually deleted my book page (as in, it was gone forever). It didn't matter because a 1-star review warned of this and I'd saved a copy of the original; I just had to reupload it. But if I hadn't read the reviews, I'd have been quite upset. If you know of a better plugin to do this, leave a comment, as I'd still be interested in one that works seamlessly with an existing site.
So, I think I've covered the basics. Any plugin you think I've missed that you absolutely love? Or one I've mentioned that you're now going to try?