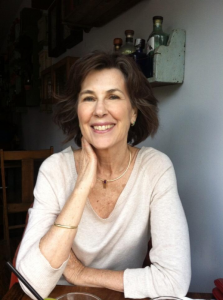 Guest Post
by Eileen Goudge
The term "traditionally published" took some getting used to when I first began hearing it. Back when my first novel, Garden of Lies, came out in 1986, there were two kinds of writers: published and unpublished. Those who were self-published didn't count.
The digital revolution changed all that. In today's world, not only is there no stigma to self-publishing, there's valor in it. And money to be made. Statistics from two recent surveys on self-publishing show that indie authors dominate eBook bestseller lists by a whopping 54%. That's more than all the traditionally published authors from the major houses combined! That said, I had to be dragged into the new reality even though my indicator lights were blinking, warning me I was in danger of being crushed by the old ways. My reluctance was understandable. Like an adult child living at home, I was spoiled. For my fifteen women's fiction titles that were traditionally published, I'd had other people doing the work of bringing each book to the marketplace. I didn't need to concern myself with pesky details such as editing, cover design, distribution, marketing strategy, and promotion.
But somewhere along the line, the rosy picture started to change for the worse: With the rise in sales of eBooks and the tanking of the economy, print runs for print books shrank. Bookseller orders were down. Foreign sales were off. Publishers held the purse strings more tightly. My advances grew steadily smaller. Suddenly, overnight it seemed, no one seemed to care what I'd written or what I was working on. The only thing that mattered to publishers was the number of copies my last title had sold. I still had fans, and they were clamoring for my next novel, but publishers turned their collective back.
I'm a silver-lining kind of gal, so I always try to look at the bright side. And there was an enormous bright side. I had a viable alternative: I could go indie. At first it felt like Mission Impossible. "Your mission should you choose to accept it…" I was overwhelmed by the sheer volume of information and online chatter on the subject; I didn't know where to begin. I'm also not that tech savvy. The mere act of creating an account on a social media or retail site can bollox me up.
I didn't know how to raise a child, either, before I had my two, and that didn't stop me. So I plunged in, for better or for worse.
I made a budget and identified the essentials that are best hired or delegated:
Distribution
I signed with a distributor, INscribe Digital, who came highly recommended by an author friend. They take a 15% cut, the same as my agent would have taken in commission, so I wasn't out of pocket and they do the work of getting my book to the e-tailers, giving it the best shot at being included in any upcoming e-tailer promotions.
Book Cover
I knew from my long experience in publishing the importance of an eye-catching and professional-looking cover. Contrary to the popular saying, books ARE judged by the cover. I commissioned a book cover from a top designer, Mumtaz Mustafa, who'd done several of my traditionally published book covers.
Editing
When I had a final draft of Bones and Roses, I hired the professional editors of Perfect Pen Communications to edit and copyedit. They were wonderful and worked seamlessly as a team, delivering on time and providing essential input.
Marketing Strategy
I like knowing what's going on without necessarily having to be hands on all the time. I happily delegated the development of a marketing strategy to a digital marketing "genie." Lauren Lee devised a marketing strategy for me, which unlike the marketing plans of traditional publishers, was one in which I was actively involved. It's been a wonderful partnership.
Social Media Platform
Friend and social media consultant Susie Stangland helped boost my social media presence. I also keep connected with my author friends who've encouraged and aided me every step of the way.
The biggest difference between my being traditionally published and indie published? I'm in charge of my own fate, as an indie author. I control pricing. And the quality of what I put out and the amount of effort I put into marketing will determine my sales figures, not my prior track record. Sure, it's a tremendous amount of work.
The other day someone observed that my husband was looking thinner. "That's because I haven't done any baking lately," I replied. Self-publishing ate my life. I barely have time to go shopping much less cook or bake. I joke that I have to pencil in bathroom breaks. But I don't bemoan or regret a single minute of it. Whatever comes of it — whether I rise triumphant from the ashes or fall on my sword — I'll look back on this leap of faith and say to myself, "Well done, you."
---
New York Times bestselling novelist Eileen Goudge wrote her first mystery, Secret of the Mossy Cave, at the age of eleven, and went on to pen the perennially popular Garden of Lies, which was published in 22 languages. She lives in New York City with her husband, television film critic and entertainment reporter, Sandy Kenyon. Keep connected with Eileen at her website and visit her Author Central page to see all her books.