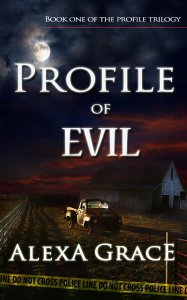 Profile of Evil
by Alexa Grace
4.6 average star rating from 244 reviews
Available from Amazon
The online world can be a dangerous place for kids whose parents are unaware of their activities, especially when a vicious serial killer is on the rampage. As the body count escalates, the pressure is on for Sheriff Brody Chase and former FBI profiler Carly Smith to stop the terror.
Excerpt
"You need to get here fast, Brody. There are two bodies inside the car."

Brody slammed the cell phone back in his pocket and raced to the front door. Nausea and fear filled him as he prayed the two bodies were not preadolescent females, like the two unsolved murder files on his desk. The last two years like clockwork, the body of a young girl had been found in his county. Both murders remained unsolved because of a lack of identification, but Brody knew that each girl had family members somewhere. Why in the hell hadn't anyone reported them missing?

There was either a monster living in his county, or using it as a body dump site. Both options were unsettling, and people were getting nervous. He was sick of being asked why the murders hadn't been solved, and how close he was to finding the killer. The avid crime television viewers watched every week as crimes were solved and tied up with a ribbon at the end of the hour. That it was taking two years to solve the girls' murders was unacceptable to them, and they weren't afraid to voice their opinions — to him, and to the County Commission President, Bradley Lucas, to whom Brody reported.
What others are saying:
"It will keep you on the edge of your seat up all night reading!" – Brandy Blackerby and 42 additional reviewers made a similar statement.