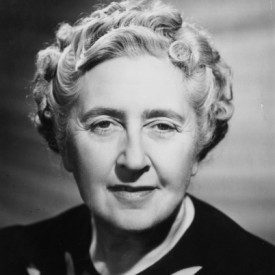 Dame Agatha Mary Clarissa Christie, (née Miller) was born on my birthday, September 15, although she made an earlier appearance than I did, in 1890. I always thought it was interesting that we shared a birthday and a vocation, so in honor of that special day this year, decided to find out more about her.
Most people know that she was a crime novelist, her books spawning such protagonists as Hercule Poirot and Miss Jane Marple. Her work as a playwright is also well known, especially her play The Mousetrap, the longest running play ever produced. Less people know that she also wrote short stories and even romances. These last were under a pseudonym, Mary Westmacott. Perhaps there is something to the mutable nature of Virgo, because I, too, write across several genres: action/adventure, fantasy, romance, paranormal, spiritual and satire.
Agatha was raised by strong women who, even though upper-middle class, still encouraged her to make her own way in the world. She worked in a hospital during World War I, a common enough experience for the time, but in 1920 her first novel, featuring Hercule Poirot, was published. In this, she found her true calling. I, too, have strong women in my family, and perhaps for that reason swam against the tide with my writing and was first published in 1984. While not quite the rarity of Christie's publication in 1920, at the time my first book still felt like a huge milestone. Remember this was still the domain of traditional publishers, and being picked up by a NY house was quite an accomplishment.
Most people may suspect but not know that Christie is the best-selling novelist of all time. There have been claims made that her work ranks third in world-wide published books, right behind the works of Shakespeare and the Bible. Now, I can't make any such claim for myself … yet. But I'm working on it.
I've always had a huge admiration for the women writers of the 1800s and early 1900s. Christie, Beatrix Potter, Louisa May Alcott, the Brontes: these were all women who were going against convention — and a very strongly entrenched convention at that — and winning. I consider them all a huge inspiration, not only to writers, but to people everywhere who want to do what they love without someone telling them they can't. I would love to think that everyone could have the drive and determination these women did, and never be deterred from their heart's calling.
In celebration of Agatha Christie's birthday (and my own), I leave you with one very important thought:
People who say something can't be done should get out of the way of the people who are busy doing it.