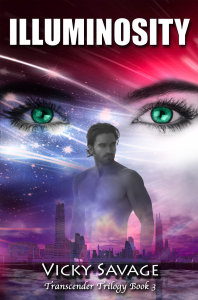 ILLUMINOSITY (Transcender Trilogy book 3)
by Vicky Savage
Genre: Science Fiction
157,000 words
Jaden Beckett has a secret unknown to those in her adopted homeland of Domerica: she's a Transcender, capable of traveling among parallel worlds at will. When the powerful Inter-Universal Guidance Agency's sophisticated computer models predict that Jaden will eventually cause the downfall of that agency, IUGA decides to destroy her first. In order to save herself, her family, and the man she loves, Jaden must fake her own death and leave Domerica for good. The plan seems sound, but on the day of IUGA's attack, things go terribly wrong.
Heartsick and alone, Jaden ventures to Arumel, a progressive nation on an alternate earth, where Transcenders conduct valuable inter-universal research. Just when she thinks she's found a safe, new life, IUGA makes its presence known. This time, Jaden is determined not to be driven away. She will fight to discover her place in the multiverse, the true meaning of destiny, and the keys to the mystery of eternal love.
Illuminosity is available on Amazon.com and Amazon UK.
Vicky, how did you come up with the title for your book? Does it have any special meaning?
The title, Illuminosity, refers to a unique energy field possessed by all objects — living and nonliving — more distinctive than a fingerprint and impossible to fake. It's visible with special goggles and measurable with an illumometer. Our heroine discovers some creative ways of using her intense illuminosity to her advantage.

Who was your favorite character and why?
My favorite character is the main protagonist, Jaden Beckett. She's had an amazing life so far, but she gets dealt some pretty rotten cards in Illuminosity. She parlays a bad hand into something brilliant, though, and makes the most of her talents, abilities, and remarkable zest for life.
Does your book have any underlying theme, message, or moral? 
The overarching theme of the book relates to destiny versus free will. Is there any such thing as destiny? If there is, can it be changed? Or is it so complex as to elude human comprehension — such that when we believe we've changed it, we've really only furthered it?
What would/could a reader or reviewer say about this book that shows they "get" you as an author?
The author took great pains with astonishing plot twists, vibrant description, and inspired character development, to keep the reader engaged throughout this 500+ page book. Add to that a totally unpredictable ending, and the final installment of the trilogy leaves readers breathless and sorry the series is over.
Give us an excerpted quote from your favorite review of this book:
"Spine-tingling suspense, heart-and-soul intimacy, and out of this world adventure. This book does not disappoint."
Where can people learn more about your writing?
http://vickysavage.com/