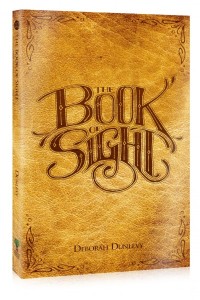 The Book of Sight
by Deborah Dunlevy
Genre: Middle Grade Fantasy Adventure
53,500 words
A book can be a wonderful gift.
When Alex received an unexpected package, she never dreamed the book it contained would change her life forever. After all, the words inside were gibberish. She had no idea the places that book would take her, the friends that book would help her make or the wonders that book would reveal. She had no clue the trouble that book would bring, either.
A book can be a dangerous gift.
The Book of Sight is available at Amazon US and Amazon UK.
Deborah, how did you come up with the title for your book? Does it have any special meaning?
I loved the idea of a fantastic world that you don't travel to visit because it's already all around you if only your eyes could be opened to see it. It only made sense for a book to be the thing that gives you the sight you need.

Who was your favorite character and why?
Always Alex. She has a warmth and innate intuition about others that makes her someone you would want to be friends with. Plus, reading the Book turns that natural intuition into something really special.
Does your book have any underlying theme, message, or moral? 
This series is about seeing things in a new way and being brave enough to embrace that reality even though it comes with dangers. This book focuses on how much we need friends to have our backs when we're living that way, and how important it is to really trust them.
What would/could a reader or reviewer say about this book that shows they "get" you as an author?
Deb writes about these characters as if they are real people that she knows and creates a world of beauty and adventure and danger as if she has really lived in it.
Give us an excerpted quote from your favorite review of this book:
"I stopped reading 99 pages later, right as I entered Chapter 8…. I didn't want to though; I wanted to keep reading. …THAT is a mark of a great book."
Where can people learn more about your writing?
http://tellmeastorymommy.com/