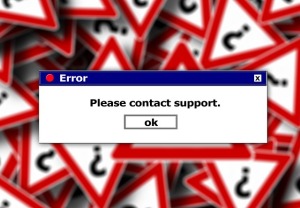 The morning began rather well. I had plans for the evening so I baked some cookies to take with me. I'd had my coffee and a bite to eat and the cookies were baking in the oven. Time to get to work – my writing work, that is.
The evening before I had turned my computer off, thinking it could use a fresh reboot in the morning. So I pressed the start button and waited. Disaster. I got a message that told me there had been an error in the shut down. The screen that is supposed to explain the specific problem blinked for less than a second before going to the screen that gave me some options: start in safe mode, start in safe mode with networking, start in safe mode with command prompt, and restart Windows normally.
Hey, I thought, no problem. I've been here before. All I have to do is "restart Windows normally". Er, no. It just kept happening over again. After four tries it dawned on me that maybe this wasn't going so well.
Now you need to understand that computers are not my friends. They don't like me and the feeling is mutual. They are a necessary evil that I have to cooperate with if I want to continue to be a writer. We have an uneasy truce in which the computer has the upper hand.
So I stared at that screen for a time wondering if I dared to try one of the other options. Which one? Well … I needed to be able to network so the others could not be what I wanted. I chose "safe mode with networking". This time the response was different. There was an error screen indicating a bad file with an option to try to fix it. Well, duh! I saw my e-mail come up. Problem solved. I am a genius.
For two whole seconds. It crashed again, same message. I tried once more. Not even the "fix file" option this time. Well, I thought, with a glimmer of hope, maybe the file is fixed. If I "Start Windows normally" this time it might work. Nope, just the same screen, with the same options and then, after several seconds, blank. Nada. Zilch. Dead. Beyond resurrection.
PANIC!
Oven timer beeps. Take cookies out of oven. Turn oven off. Cut cookies into bars. Eat two cookies while still hot enough to burn mouth. Deny this is happening. Eat another cookie.
PANIC!
Hubby comes home from an errand.
"My computer won't come up!! It crashed!"
Hubby knows no more about computers than I do, but he dutifully comes to look at the black screen and asks the usual questions. "Did you?" Yes … yes … yes. I show him each one. "Well I don't know what to suggest. I guess we'll have to call Noah." (our son the IT guy)
"But he's at work (in Toronto). He won't have time to help me, not even by remote."
I call Noah at work and explain what happened.
"Hmmm, sounds like a bit of corrupted memory, or possibly a hardware problem. Bring it to me next weekend and I'll look at it."
Next weekend! I freak. Next weekend is ten days away. "I can't be without it that long. I can't even write without my MS files. I have a post to write for IU." Then the worst hit me. "But you can get my files back, right? … Right?"
"I don't know. It depends on the problem. I likely have to rebuild your computer."
"Maybe I should take it to the local shop."
"No, wait and let me do it."
"But I have to work. And my files …"
"I really can't say about the files." He doesn't let me say anything more before adding, "You can use Dad's laptop in the meantime".
The laptop has none of my files and has a weird version of e-mail. After two more calls to darling son I realise I can't use it. But I remember we have an old computer of mine from two years ago and we get it running. Slow … as … mo … las …ses …
But I have e-mail. And, because I saved my current manuscript, minus a couple of chapters, which I had mailed to a friend to critique and were still in my sent mail as attachments, I could continue to write.
I spent the better part of the day reconnecting to all the networking sites I use. Some I had to change passcodes for as I had not remembered them.
I do have all my covers and various versions of my three manuscripts on a memory stick. Those are not lost.
But my files … I have no idea if Noah will be able to retrieve the Word.doc files that include my reviews, blurbs, interviews, shorts, flash pieces, the pages with my links, my bio, – the list goes on. Some I can find somewhere and copy and paste but many I cannot. And those that I can will take detective work to find. It will be time consuming and headache inducing. And I have a ton of pictures of my grandson. Those can be retrieved but it will take work.
My computer is my life. Well, maybe aside from my grandson. I do everything on it short of housework – the mundane stuff. It is what I use to write – not only my books, but all those other things that are in those files that may be lost. I write nothing out longhand. If I had to I would not be a writer. My penmanship is illegible even to me, and I type much faster than I write on paper. I can almost keep up with my thoughts on a keyboard, typos notwithstanding. I can't do that with a pen. Without my computer I am, quite literally, handicapped – prevented from doing what I do – write. And losing that, even for a short time, is scary – very scary.
So, now I have another week to wait to see if my son can get those precious files back. The suspense is killing me. Have I won the battle – to get back to work – only to lose the war, er files? Is my son the genius I hope he is? Stay tuned – and back up those files, even if you think they aren't that important.
[You can find information on backing up in articles about Backing Up Your Digital Media  and Dropbox. – The Admins]