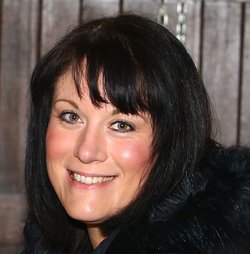 Guest Post
by Joanne Clancy
New Year 2010, I was sitting in my campervan overlooking the cold waters of the Atlantic Ocean in the West of Ireland, wondering what I was going to do with the rest of my life. I came across Amanda Hocking's blog. Amanda Hocking was a twenty-six year old care worker, who'd written seventeen books in her spare time. In early 2010, she began self-publishing her books, and by March 2011, she was a Kindle millionaire! Amanda's story was the catalyst that changed my life.
Little did I know then, that losing my job was the best thing that ever happened to me. It forced me to reevaluate my life, and discover what I truly wanted. I went back to my roots and started reading and writing again, and that is how the journey to changing my life began. The more I wrote, the more involved I became with the story and the characters, and the more I began to enjoy writing.
My sister told me about a competition that Penguin Ireland was running, where they were offering a publishing contract to the winning novel, so that gave me the push I needed to finish my first book by December 2010. I didn't win the competition, but I was thrilled just to finish the book.
I sent many query letters to agents in the UK and Ireland. I started work on my second book in early 2011, while the rejection letters rolled in. I discovered Kindle Direct Publishing via Amanda Hocking's blog, and decided to upload my books . I edited and formatted the books myself because I didn't have enough money to hire anyone. It was a steep learning curve! I received several negative reviews, which encouraged me to read as many books as I could on grammar, punctuation and the art of writing. I had a trickle of sales during 2011, but I kept on writing.
In March 2012, I published four books, which earned me a few more sales, but nothing major. By 2013, I was tired of writing romance novels, so I decided to switch genres and try crime writing. In March 2013, I published Watched, which went to number 1 in its category — Police Procedurals — where it stayed for several weeks . It was free for 5 days with Amazon's KDP Select, and that's the only marketing I used. Watched was the pivotal book for me, both in terms of income and in realising that I much preferred writing crime than romance.
I didn't have any real strategy regarding marketing my books. I just kept writing and publishing. I studied the bestselling books in my category and tried to emulate their covers, titles and blurbs.
I starting putting books for free using KDP Select in March 2013, but I didn't advertise them anywhere , because I didn't want to spend the money, but mostly because I was having such great sales after the free days without any advertising that I didn't feel it was necessary. I averaged about 4,000 free downloads per book and made about $4,000 in sales within the four weeks after coming off free. Two more of my books were also bestsellers in their categories, making 2013 the first year I made a living from my writing.
I moved out of the camper in March 2013 and now write overlooking the beautiful shores of Lough Derg in County Clare.
I continued to make my books free when I first released them, and I didn't advertise them anywhere until I published The Offering in November 2013. I paid for an advert with Bookbub. I had 55,000 free downloads and I was jumping for joy, believing that I'd make a fortune when it came off free. Ironically, that's probably been my worst seller to date!
In 2014, I published four crime books. I set up a blog and a website and focused on Facebook and Twitter, but I didn't see any major bump in sales. However, while I think social media will have more of a cumulative effect over time, 2015 will see me focusing much more on my writing.
In the past four (almost five) years, I have written nineteen books. I'm not earning millions–far from it, but I'm earning a living from a job that I am passionate about.
Following my passion changed my life, and I would recommend to everyone to forget about New Year's resolutions and seize the opportunity of this New Year to do whatever it takes to start living the life they want.
---
Joanne Clancy's books combine murder, mystery, and suspense with a twist of psychological drama for good measure. She is an avid reader, a self-confessed Kindle addict, and a tea fiend. You can learn more about Joanne at her website and her Author Central page.