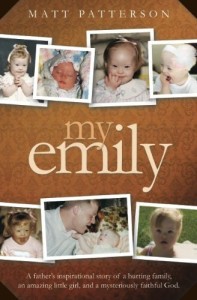 Emily wasn't born perfect – so one might think. She was born with Down Syndrome and many would jump to the conclusion that she would have very little hope for a life with any significance. Two years later came the diagnosis of leukemia. What little hope remaining turned to no hope whatsoever – or so one might think.
The life of this little girl, with all its perceived imperfections, had great meaning. Her loving nature and courage touched the hearts of everyone she met. She also taught them how to value their own lives – even with their many "imperfections."
My Emily, the memoir by Matt Patterson, is available from Amazon.com & Amazon UK.
Don't forget, you can cast your vote for trailer of the month on February 28, 2015 at 1 p.m. Pacific time.