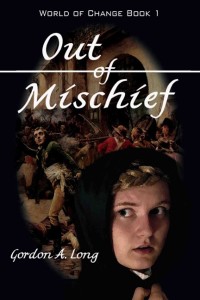 Thrown into a nasty rebellion by a schoolgirl prank gone wrong, Aleria faces rape, murder, and worse. She is shielded by an Army spy who has infiltrated the band of thugs that captured her. But after a while she begins to wonder if he isn't getting too enthusiastic about their violent charade, and her terror mounts.
Rescue comes, but her ordeal isn't over. To survive, Aleria must make a decision that will change the course of her life.
Out of Mischief, the new adult alternate reality novel by Gordon A. Long, is available from Amazon.com, Amazon UK, and most online retailers.

Don't forget, you can cast your vote for trailer of the month on February 28, 2015 at 1 p.m. Pacific time.