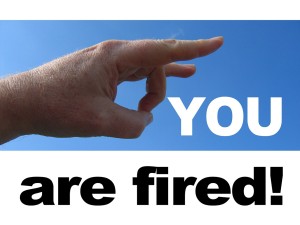 I saw a recent article with the headline The Atlanta fire chief who wrote the homophobic book has been fired. When I read this, I thought it might be a good time for a post about some of the unintended consequences that can occur from your self-publishing life, if you don't use a little forethought when publishing.
Clearly this fire chief wrote the book and intended to keep his job after writing it. However, things went awry because his job considered his content to be in violation of their standards for employees. While I don't want to debate whether forethought could have prevented the situation that resulted here, I think the case serves as a reminder that the things we write can have unintended consequences if we're not careful.
Before you get your hackles raised, I'm not saying to cower in fear and self-censor to the point that you write nothing. That would be ridiculous and very anti-creative. However, I do think that if you earn your living doing something other than selling books, you should be careful of how your books might impact that steady income.
Frankly, one sect of self-published authors does this regularly. I'm talking erotica writers, who often write under a pen name. While erotica is perfectly legal, the content is still shunned because it's not appropriate for all age groups, and even many in the adult audience find it unbecoming. Therefore, a person who is a school teacher would likely want to write erotica under a pen name. The pen name provides mild anonymity, offering distance between an author's writing life and an author's "this job pays my bills" life. It should be noted that pseudonyms do not provide complete anonymity; an ex could rat you out, as well as the copyright office, if you've registered your work there. So, if you want to publish a hate-filled, racist manifesto and you're the chief diversity officer at your company and need your job, don't do it, even under a pseudonym. (OK, actually, go ahead and do it, as a big part of me really would like to see you get fired.)
Moving back to the main theme here of unintended consequences, the key thing is: it's important for you to evaluate your situation and give it a gut check. Then, just to be sure, check out if your company has a written code of conduct or employee standards and make sure you're not going to run afoul of that with what you're writing (like the Atlanta Fire chief). If so, you need to evaluate if you can do something so the book doesn't violate it, or whether writing it under a pseudonym would be a decent solution.
What if you're not employed at the moment, but you're looking for work? Could your book life affect that? I've heard of writers who use a pseudonym because they are unemployed and actively seeking work. When some employers Google applicants and learn they are writers, they — rightly or wrongly — assume that person will be spending the days dreaming and writing rather than actively doing the job the employer is paying the person to do.
In addition to the things that can impact your other work, there's also the potential of being sued over something you write. This is more likely for nonfiction writers, though. If your book libels someone (writes false things about them), you could be open to a lawsuit. If you write a self-help book and offer advice that could actually harm people, then you could be open to liability. What advice could harm people? Well, let's say you lost 50 pounds in six months and you've penned a tome called The Lighter Fluid Diet, where you recommend downing two tablespoons of lighter fluid each day. That might cause you some issues. While that's an obvious one, there are other things that might be less apparent on first glance. Give your advice some thought before you decide to hit publish.
Memoir writers have to be particularly careful because they could get sued for invasion of privacy by publishing the private lives of other people, in so much as those people were interacting with them. While public acts are up for discussion (a divorce, or an incident recorded in a public record or newspaper), mentioning that you were profoundly changed by helping your cousin recover from an alcohol addiction is a violation of your cousin's privacy and might get you sued. Anything you're concerned about should be run by an attorney. Often times, the local writers' guild or arts council can recommend a good attorney to talk to about your concerns. (Check out the Indies Unlimited Legal Resource page here.)
While issues can arise in your publishing journey that cause you to hit the pause button, that doesn't mean you have to stop. Many times the issue of concern can be worked by simply rewriting a passage or two, removing libelous content, using a pseudonym, or seeking permission from a relative whose personal experience is integral to your own memoir. The key is to not let something come back to bite you later that you could have avoided with just a little forethought and planning.
[Update: The fired fire chief has now filed a federal law suit against the City of Atlanta.]