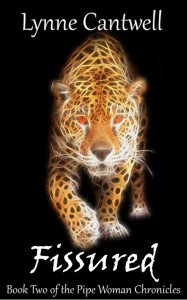 Fissured: Book Two of the Pipe Woman Chronicles
by Lynne Cantwell
Genre of this Book: urban fantasy/paranormal romance
165 pages
4.5 stars on 16 reviews
It's not bad enough that Naomi Witherspoon is second-guessing her relationship with her new boyfriend, Ute shapeshifter Joseph Curtis. Now she's been attacked by a jaguar in downtown Denver. And somebody has built a hydraulic fracturing operation down the road from their friend Charlie's ranch. An independent filmmaker named Jack Rivers has conveniently appeared, and is documenting Charlie's problems with the fracking operation. Naomi thinks Jack might be the Investigator – the fourth member of the team a Lakota Indian goddess set up to help Naomi broker peace between Jehovah and the pagan pantheons – but Jack seems more interested in causing trouble among Naomi, Joseph, and her best friend Shannon, than in helping out their team.
When the operator of the fracking facility turns out to be an old acquaintance, Naomi begins to wonder how many Tricksters it takes to make a divine deal….
This book is available from Amazon, Smashwords, and Barnes & Noble.
Exclusive excerpt from Fissured by Lynne Cantwell