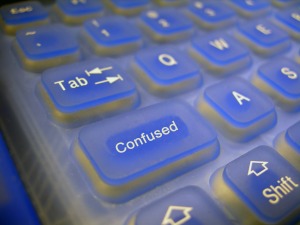 Recently, we asked if you had any questions. The answers, in order, are: yes, but only if the light bulb wants to change; it depends on the phase of the moon; wait until Rich Meyer finishes feeding his cats; we'll never reveal the secret gruel recipe; because it's there; and yes, Chris James looks even more handsome in person than he does on the Internet.
Meanwhile, commenter Wendy asked, "Where do I start looking for a good reasonable editor? I know those two words don't usually go together but I will need an editor soon and don't have a lot of money to do it with. I know I can't edit my own work because of the brain auto filling. Need fresh eyes. Any suggestions?"
It's true, Wendy. Most of us can't edit our own work. That's mainly because our brains are exceedingly clever. Once you read over a manuscript two, three, seventeen times, your brain tries to save you the effort and begins to skim over small words and errors. There are plenty of great ways to self-edit your work, but nearly all writers hit a saturation point where they need to call in an editor. A lot of authors have questions about where to start looking for one. It's not just the newbies — many former trad-pubbed or small-press published authors are going indie, and they've never needed to hire their own editors before.
So let's break down the steps of the hunt for an editor.
Before you even start looking, know the type of editing you need.
Do you need help shaping the story (or series) or have you been told that you have significant plot or character development flaws? If you need help with unresolved plot threads, think you might need some scenes cut or rearranged but want a professional perspective, you might benefit most from hiring a developmental editor. (Also referred to as a content editor or substantive editor.) This is normally the most expensive type of editing. (Note: nonfiction also has a kind of "narrative arc" within it, and a developmental editor can help if the story you're telling doesn't flow right.) Because of the expense, many indie authors use beta readers to help shake out those pesky issues.
Have you used beta readers, critique groups, or the services of a developmental editor to work out the major problems, but you need a good review of grammar, spelling, punctuation, point-of-view and word usage, tenses, consistency, and how all the sentences flow together (among many other nitty-gritty things)? Looks like a job for a copyeditor (or sometimes called a line editor depending on who you ask.)
Have you finished the copyediting, but you are about to publish and want to make sure you haven't missed anything during your corrections, like little typos or that weird thing Microsoft Word does with apostrophes and em dashes? You might just need a good proofreader.
But isn't figuring out what I need the editor's job?
Sometimes. An editor can often help you determine what kind of editing you need by reviewing a sample of your manuscript. An important note here about the different types of editing: it's difficult (and sometimes not in your best interest) for one editor to perform all three functions for you. Not only are these different skills, but editors have human brains as well. Multiple passes through the same work increases the chances of missing errors. I'd love to see some research about this, but from personal experience, I've found that two passes are optimal: the second catches what I may have missed (or flagged for further study) on the first pass. This is why a lot of indie authors use a proofreader after doing the copyediting revisions.
Some overlap in service isn't unheard of: a sharp copyeditor can pick up on light developmental issues like an unresolved story thread or a section where the tension luffs. A proofreader might flag a clunky sentence, a POV or tense shift, or some other problem missed in copyediting. Some editors offer one, two, or even all three services, although they will probably not apply them all to the same manuscript. But, like nearly everything in indie publishing, your actual experience may vary.
Now let's find some names. Here are a few places to start:
Facebook/social media groups. In Facebook, a few good groups to investigate are MasterKoda, Authors and their Editors, and Editing for Indies. Some of these groups, as well as other groups geared mainly toward authors, maintain lists of service professionals (editors, cover designers, formatters, etc.) in their doc files. If you're in doubt about making a request in a group, you can't go wrong contacting the group admin.
Ask other authors: Your fellow authors are some of the best sources for information about the editing professionals they've used and recommended. As with any other social media pursuit, common sense applies. If you've read a book that you think has been edited well, a polite inquiry to the author can get you that editor's name and contact info.
Ask service providers, like cover designers and formatters.
If you don't do social media, ask your local librarian. Librarians are great sources of information not just for finding beta readers and book clubs, but also editors and proofreaders.
Check into freelancers websites like oDesk and Elance but be really careful. Always check references to make sure you're working with a professional and not someone who is simply going to pop your manuscript through Microsoft Word's spelling and grammar check program.
Next time, Part II: The hunt continues…what to ask your prospective editors.