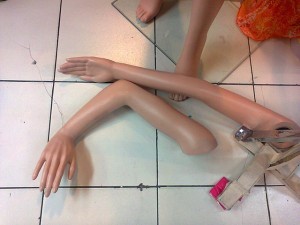 Do you ever notice verb tenses that seem to conflict in the same sentence? Every now and then, I'll run into sentences like these:
Walking into the room, she leaned one elbow on the bar.
Looking at him, she giggled.
The second one works. The first one doesn't. Why? Let's break it down:
Verbs that end in –ing are used to form the progressive tense. They indicate that the action being described is ongoing. "I am whistling a happy tune" is in the present progressive tense. It means I'm doing it right now. But I'm not beginning to whistle – I'm in the process of whistling – and I also haven't yet quit whistling. Same with past progressive: "I was beginning to see the light" means I was in the process of understanding (or in the process of seeing an actual light – take your pick).
Verbs that end in –ed are handy for forming several verb tenses, but for now, let's talk about the simple past tense. "I snorted" means I did it once and it's over. I might snort again in the future (in fact, I probably will), but this particular snort is kaput.
Sometimes new writers are told to search for –ing verbs and root them out. That's because a sentence like "I was beginning to see the light" can be stronger if you change it from past progressive tense to simple past tense: "I began to see the light."
But past progressive tense is fine – and perfectly legitimate to use – if you have an ongoing action during which something else occurs. The trick is to make sure it's possible to do both things at once.
Let's look at my examples again. I've put them on a timeline to help us visualize better what's going on.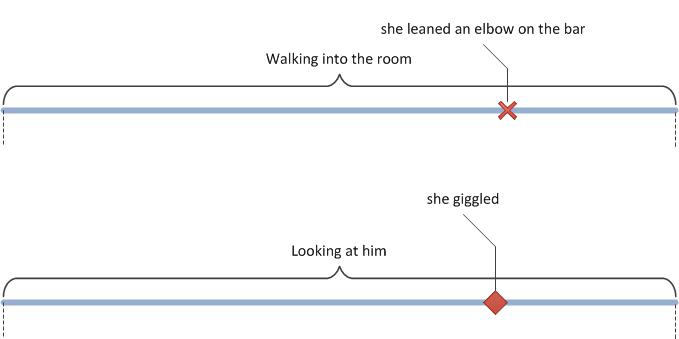 In the first sentence, our heroine is walking into the room. At some point in the proceedings, she leans an elbow on the bar. But wait a minute – she's still moving! Is the bar in the doorway? Did she plant her elbow as she walked by the bar, and then use it as a pivot point to finish moving into the room? Or did her arm pop out of its socket and stay on the bar while the rest of her kept going? (Hey, it's almost Halloween. It could happen.)
Unless she's a zombie, I'd guess the answer is none of the above. What the writer probably meant to say was something along these lines: "She walked into the room and leaned an elbow on the bar." Our heroine has completed two separate actions: She stopped moving into the room before she put her elbow on the bar. Sounds more plausible, doesn't it?
Now take a look at the second sentence, wherein our heroine is in the process of looking at a guy, and at some point while she's looking, she giggles. That could work, couldn't it? She can certainly look and giggle at the same time, and she can keep on looking at him after she has stopped giggling. So this sentence is fine.
I'd suggest you add this to your list of things to look for when you're doing an editing pass on your manuscript. When you run into an –ing word, don't just throw it out; look at the sentence. See if it would work to change it to simple past tense. Or if it's paired with another past tense verb, think about whether it's possible to do both actions at once.