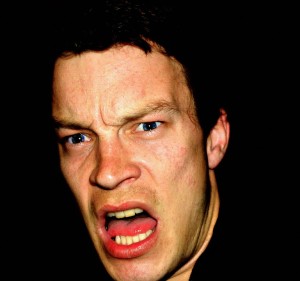 We've had posts about critique groups before. These groups can be very helpful to writers if they are balanced and the members show mutual support and respect.  Until recently that's how it's been for me. Members respected each other and genuinely tried to provide constructive feedback, trusting that it came with good intentions. This keeps groups working together without rancor.
But what happens when one member becomes volatile, angry, and refuses to hear what the others say?
It recently happened in the group I belong to. Our group is small – only five members who each submit a piece once a month and meet to discuss it. One member, whom I will call Bob, joined about a year ago but was absent for several months last winter. From the beginning he was what I'd call "prickly" with me, though I have no idea what triggered him. Perhaps he doesn't appreciate strong women. For the months he was away, we all got along smoothly. But, when Bob was around, he did 90% of the talking, mostly about himself and his writing, taking up so much time the rest of us had to rush our critiques.
Other groups may work differently, but in ours the rule is that we listen, and may ask clarifying questions, but not argue with what we hear. But Bob took issue with everything I said, even when it was supporting what another member had said. He was also highly critical of my writing, told me my characters didn't work, my plot didn't make sense  –  you get the picture. I suggested once that perhaps he didn't like my genre. On another occasion I opined that, since he had been away for months, perhaps he had lost the thread of what I was writing. And I dropped the subject.
Until last month.  At that meeting, when I supported the previous member's comment with an illustration from his text, he argued with me, then exploded, with a shouting rant that became a very personal attack. It continued even when the previous member pointed out I had used his comments to base mine on.  Bob rose, and, touched each other member physically as he told them how much he appreciated their input. Then he stormed out, stating I had been the problem from the beginning and he could no longer be in the same room with me.
With one member absent that night, I looked at the other two, hoping for some support. One made it plain that this was not my fault and that Bob was the one with the problem. The other remained silent. I learned later that she was in shock and did not know what to say, though she told me later she agreed that Bob had the problem and I had done nothing wrong.
When she finally did speak she said, sadly, "I hope this doesn't mean the group will break up."
There are toxic types other than Bob, with his misogynistic ego and hot temper. Another is the grammar cop who insists on editing your work even when you've stated clearly you only want comments on the characters or story because editing comes later. There is the writer who just doesn't get it, can't write and can't take suggestions. Or the one whose ego is so fragile that all feedback which does not praise to the skies seems like rejection. They never have anything of value to say to anyone else for fear of hurting their feelings. Or the one who goes to every new class they hear about and then insists that the new stuff they learned is the only correct information. Or the know-it-all who insists their way is the only correct way. I'm sure you can think of a few more types.
So does this member's issues have to cause the group to break up? Ours didn't, fortunately. Bob waited for 24 hours – no doubt thinking they would kick me out and invite him back – then announced his resignation to the others, ignoring me. We heaved a collective sigh of relief.
But, if Bob had not left voluntarily, then what? In many cases the other members will drift away and the group dissolves. That's a shame, because the ones who benefit most from a group are chased away. Sometimes the group divides into opposing factions. Again, eventually the group no longer works and it closes.
Writers are often too critical of their own work and the remarks from a toxic member can leave them insecure or devastated. It's sometimes a tall order, but in cases where only one member is destructive to the group, the others must somehow find the courage, collectively, to oust the troublemaker. Had Bob not left, the rest of us were prepared to tell him he was no longer welcome. Standing together against this adversity makes the group stronger and more cohesive. The important thing is that all members must stand behind the decision.
If the group has a chairperson, the duty of informing the toxic member falls to him or her, but it must be made clear the entire group agrees. If this message cannot be given face-to-face, an email including the names of all members is an effective way.
Once that is done, the group must let it go and carry on. It can work. It did for mine.