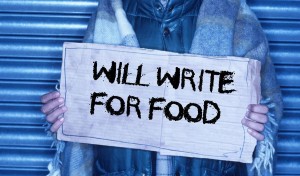 Dear Benevolent and All-Powerful Person in Charge of Hiring Writers:
I am responding to your advertisement for a versatile wordsmith. I do believe I am a good fit for this position since I write suspense, chicklit, satirical, and action-adventure novels; educational children's books; and non-fiction instructionals. You can find me, and my thirty some-odd titles (yeah, I lost count. I didn't say I was good at math), on Amazon and other online bookstores. I have been lucky enough to have won a couple of awards for my writing, and I have enjoyed the thrill of seeing some of my books hit the tops of certain Amazon bestseller lists. I'll be honest, not all my books are awesome – my first novel that was published back in 2001 is awful, so I suggest you don't waste your money on it. My newer works are much, much better. Unfortunately, even as "bestsellers," royalties of thirty-five cents per book don't make for a great living. Yes, I'm proud to say I am a starving author. Things are so bad right now that I recently considered taking a position as an executive envelope-stuffer, but I discovered I have a debilitating fear of paper cuts.
I am also an experienced editor and proofreader. Polishing words to flow in a sleek, rhythmic manner is satisfying and rewarding to me. I have edited full-length novels, website copy, sales brochures, and even a food-porn novella. Don't ask. It's better that way.
Currently, I am fortunate to live in the wilderness of northeastern Washington State. From my hidden mountain lair, I plot future novels and run IndiesUnlimited.com, the highly-acclaimed site for authors. I take great pride in the Indies Unlimited site and our "non-profit not-on-purpose," pay-it-forward mantra. We have an ardent following and were listed in Publishers Weekly as one of Six Great Blogs for Indie Authors.
When I'm not writing or manning Indies Unlimited, I gaze out at endless acres of emerald-green fir, pine, and spruce. I photograph the wildlife that passes through my yard and fantasize about pizza buffets, lobster, and other nutrition. I very much like food, and have decided it is time to get some. But alas, without money, that cannot happen. So, may I please have a job?
Thank you in advance for your time and consideration.