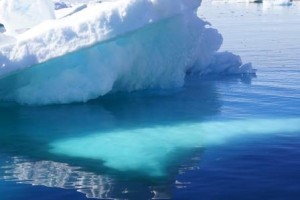 The tip of the iceberg is an idiom for the part that is seen, with the implication that there's much more that is hidden. In novel writing, the tip of the iceberg is the part of the story that makes it into print. The rest of the iceberg is all the material the author didn't include in the final manuscript.
The amount of material that isn't included is generally much greater than what's contained in the novel itself. It can consist of research the author did for the story, scenes that were cut, plot lines which were abandoned, and those "extras" that R.J. Crayton identified as the "director's cut" of the work.
Authors have different ways of dealing with all this stuff that doesn't make it into the finished product. Back before the interwebs, I kept physical copies of research articles, photocopies of pages out of library reference books, handwritten notations on index cards documenting sources, reams of notes, and so forth in an expanding file, along with a copy of the manuscript itself. Now I just create a virtual file folder and click and drag whatever I find into it. For deleted scenes and the like, I copy and paste those into an MS Word file I call "dump," as in, [book title dump.doc]. Not very glamorous, but it works for me.
If you're looking for a new way to engage new or existing readers, the "iceberg" material could come in handy. I wish I could say that I had thought of this myself, but actually a book club member asked me to give a presentation to a different audience. The book club had read my Japanese historical novel, The Earthquake Doll. This time, the club member asked me to present something to a study group about the research I'd done for the novel. It was easy to put together a PowerPoint presentation using notes from the research and photographs in the public domain.
I don't see why this couldn't work for other authors. You could work up something based on your iceberg material for your next book club, convention appearance, or book signing. It wouldn't necessarily have to be a PowerPoint presentation. It could be a handout, perhaps, or a visual aid such as a presentation board.
If your iceberg material includes deleted scenes, abandoned plot lines, minor characters, etc., you might find the germs for a sequel, a short story, or even a new novel. One series that comes to mind is Anne Rice's Interview With the Vampire, which contained the seeds for most of The Vampire Chronicles, eleven novels in all.
J.R.R. Tolkien's famous Lord of the Rings trilogy came out of a vast amount of material he'd previously written concerning events that occurred in the deep past, even back to the creation myths before the time of Middle Earth. Some of this material was published posthumously in The Silmarillion.
You might discover a special interest like author Mary Doria Russell did when researching her novel, Doc. Dr. John Henry "Doc" Holliday was born with a cleft palate. Ms. Russell has made matching donations and encourages readers of Doc to make donations in Doc Holliday's memory to The Smile Train, the world's leading cleft surgery charity.
Have you found other ways to utilize your iceberg material? My advice is to hang on to all of it. It could turn out to be more useful than you realize.