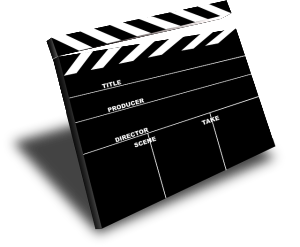 The good news is, as a self-published author, I can say I will never release a so-called director's cut, or "author's preferred text" version of my novels. What's out is my preferred version. I haven't been hornswoggled or bullied into publishing something I'm not entirely happy with. And that's a good thing.
However, in the world of traditional publication, that's not the case. The publisher gets the final say and some authors aren't happy. The phenomenon was mentioned recently in this Slate article about Neil Gaiman. In passing, I've heard of several authors who wished they had more clout at the time their book was published, in order to veto changes. (One very noticeable one is JK Rowling's first Harry Potter book. The US publisher thought the "Philosopher's Stone" didn't sound cool enough, so US kids got the "Sorcerer's Stone." But in this piece, Rowling notes she wishes she would've fought harder against it.)
While I don't have a director's cut available, I have always liked the notion of offering readers stuff that didn't make the final cut of a manuscript. Sometimes, we write scenes that just don't work in the final narrative. And while the story worked fine without it, it's sometimes fun to share those things with readers.
I would never re-issue my book with cut scenes, but, like on those DVDs that offer extras, I am certainly willing to share the extra stuff with readers, when I have it. Those scenes are little gems I save for my website, so readers can easily find them. I think I had more extras starting out than I do nowadays. In the beginning, I was still getting a feel for the writing process and what would work and what wouldn't. Also, I'm much busier now than I used to be, and I try to stick to a productive writing schedule, so it makes it less likely I'll go off on tangents or write a scene I know won't make the final cut. Occasionally, I will write a scene I have no intention of using because it doesn't fit the story, but I know it occurs and I'm curious about what happens in the interaction. I want more than a flash in my mind of what transpired. I want to see the scene, so I write it. But, again, this is rarer for me nowadays.
While my extra scenes are more akin to add-ons than a "director's cut," I will say the Slate article has buoyed me. I think there are always tidbits that writers know that they don't share with their readers. There are so many things we keep locked in the vaults of our brains (or the bottom of our Word docs) that just don't make it to the printed work.
So, what's an author to do? Should we release all the tidbits as extras or "director's cut" editions of the work? Well, I'd hate to create a hard and fast rule, but if I were forced to make one, I'd say probably not. But, if there is a work that keeps haunting an author because she feels there's more to add, then write it. Or if the author has time to write out some of the hidden tidbits in a readable fashion because he thinks it would make the reader's experience more complete, then do it. And if readers ask a lot of questions about a particular storyline or character in your book, then that, too, is an indication that you might want to offer up some extra info for your beloved readers.
Of course if once you're done, you're done, and you don't want to add more or talk more about your book or your characters, that's certainly your prerogative as an author. But I do think if you want to offer up a little extra for readers, it will be appreciated. Which is probably why the "author's preferred text" editions are a thing, now.