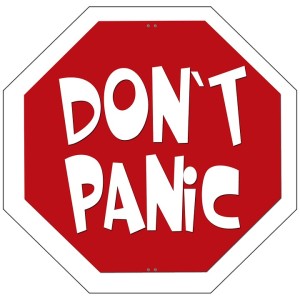 You have probably already heard about the latest sky-is-falling report involving KDP. An online publication (which shall remain nameless, as it's well-known for publishing unsubstantiated clickbait, but whose initials are Good Ereader) struck fear into the hearts of many indie authors last week, when it announced that starting February 3rd, Amazon would begin pulling from sale any eBooks reported to have typos or formatting issues.
Actually, KDP has reserved that power unto itself since at least 2010, according to Nate Hoffelder at The Digital Reader. What's happening now is that Amazon is instituting a two-tier system. Books that are basically unreadable, or are flagrant violations of KDP's terms of service, will be pulled from sale. Books that include so many errors and/or formatting issues that they detract from the reader's enjoyment will get a warning message on their listing; Amazon will then contact the publisher (if you're an indie author, that's you) with a list of the problems that need to be fixed. Once they're fixed to the Zon's specifications, your book will be available for sale again.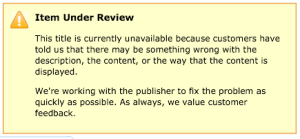 Some authors are worried they'll be targeted by some reader who doesn't like them, or who doesn't like their book. While that's a possibility, John Doppler at Words on Words spoke to a couple of Amazon customer service reps and learned the Zon has actual humans reviewing the complaints. Your antagonist would have to offer up complaints specific enough for the reviewer to check, and egregious enough to pass them on to you. "He's a horrible person who should never be allowed to earn money from anything he writes" isn't going to be enough to get your book pulled.
Other authors are worried that somebody will flag their made-up words, dialect, or un-American spelling. On the KDP page listing the things for which it will pull your book from sale, KDP specifically states: "Sometimes improper or dialectic spellings are intentionally used by the author. These are not considered errors. Common examples would include character dialogue. Spelling differences which occur between US and British English are not considered errors." So if you're a British author who's worried some American will complain to Amazon about your extra "u"s, be assured that alone won't be enough to get an error warning slapped on your book listing.
Really, though, authors and publishers can avoid much of the risk of having Amazon pull your book by using common sense when a book is first uploaded to KDP. Look at the book in the previewer (you have many options): Has KDP's bot flagged a lot of typos? Are you seeing gibberish in places (a clear sign that you've used a special character that KDP's converter can't read)? Did you manage somehow to italicize a whole section or chapter (an indication that your formatter forgot to close an HTML tag)? Have you cut-and-pasted graphics, instead of using Word's Insert function? Did you forget to replace links to your books on Smashwords (or D2D or – horrors! – iBooks) with Amazon links?
We'll be keeping an eye on this. If you've had a recent run-in with Amazon over this new policy, please let us know in the comments.