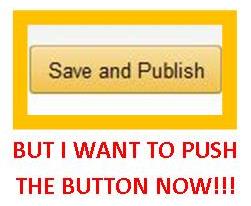 eBook formatting catastrophes are avoidable – one just has to take the extra steps to check the files before pushing the publish button. I know, I know, you're excited, and you want to get your book out into the world! But at what cost? Lenore Skomal told us about her eBook formatting calamity. That caused her a lot of heartache, possible loss of readers, and a lot of bad reviews. Don't let that happen to you.
KDP (Kindle Direct Publishing) and Smashwords make it very easy for you to see what readers who purchase your book will get. It will only take a few minutes of your time and, if you don't have an eReader, a little software.
Today, we're going to focus on KDP.
I personally do not own an eReader, so I do rely on the tools provided by KDP, including Kindle for PC. Don't have Kindle for PC on your computer? It's easy, and our Krista Tibbs will show you step by step how to get it. (Note, I have not been able to get Kindle for PC to work with Windows8.) "But I've paid for formatting, and I'm uploading the file they sent me," you say. Well, Lenore paid for formatting as well. You think just because someone else formatted it that you're immune to disaster? Wouldn't you rather be safe than sorry? I would. So let's upload the file now.
Congratulations! You've successfully uploaded your book's file. KDP will show you this happy screen: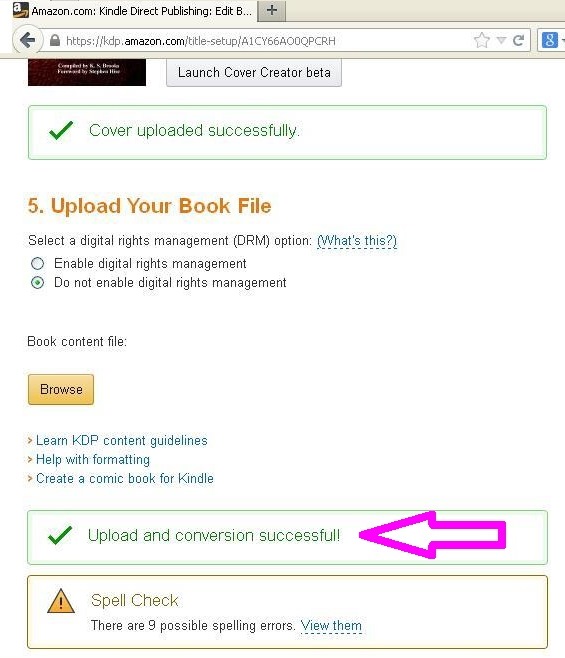 Don't be scared, go ahead and click on the "View them" link on the Spell Check section. You'll need to do this before you can proceed, and one time, this even caught an error that I'd missed – so it's not a waste of time! You'll get a pop-up window like the one below. Go ahead and ignore or do what you have to do to make your book correct.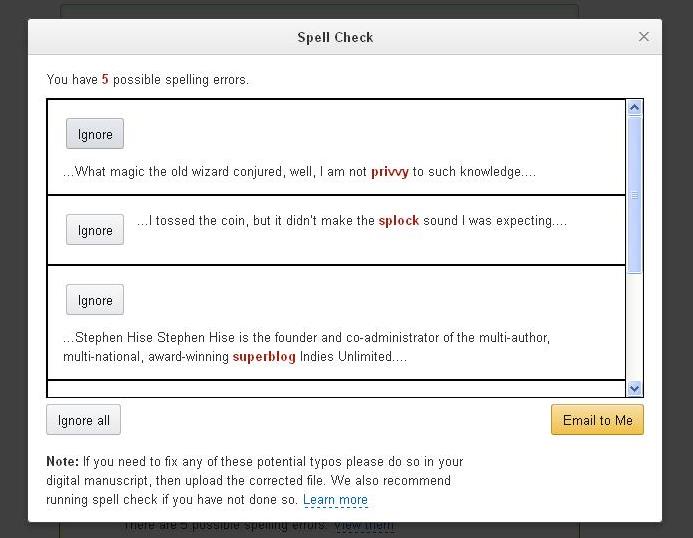 Now scroll down to the "Preview Your Book" section. You'll notice that just above it, KDP will tell you that you have zero spelling errors. Yay you! Okay, #1 in the screen below is where you download your book preview file. This will be a .mobi file designed to be viewed on a Kindle device, or your Kindle for PC reader. I normally download this first and scan the file to make sure there are no funky alignment or indentation issues. I also check to make sure the live links work (such as the table of contents, etc.).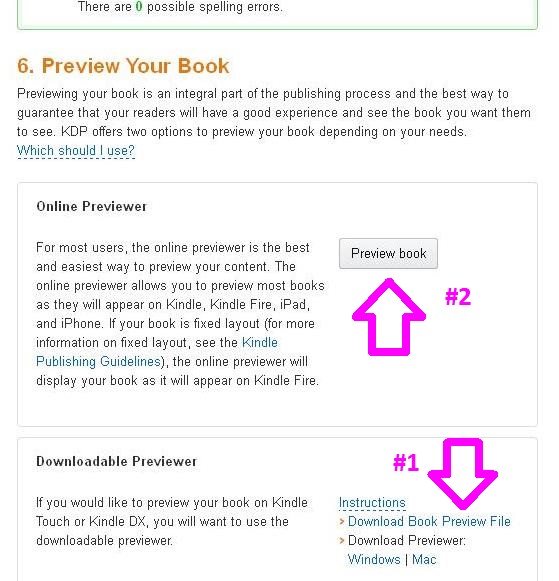 So go ahead and click on "Download Book Preview File." You'll get a little pop-up window like below: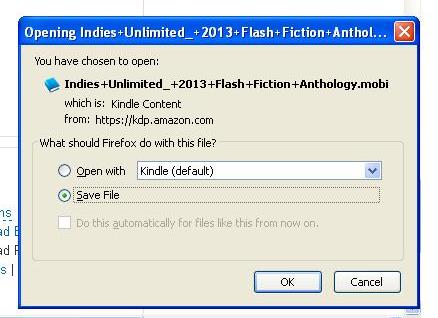 Click OK, and then you can either export that to your Kindle eReader (don't know how to do that? Melissa Bowersock wrote a tutorial on how to sideload to your Kindle) or open with your Kindle to PC app.
After checking the file, then comes #2. I don't put a ton of stock in these previewers since they are simulated – that's why I always review the downloaded file first. When you click "Preview Book," KDP will open up a new tab for you. The default – at this time – is the Kindle Fire.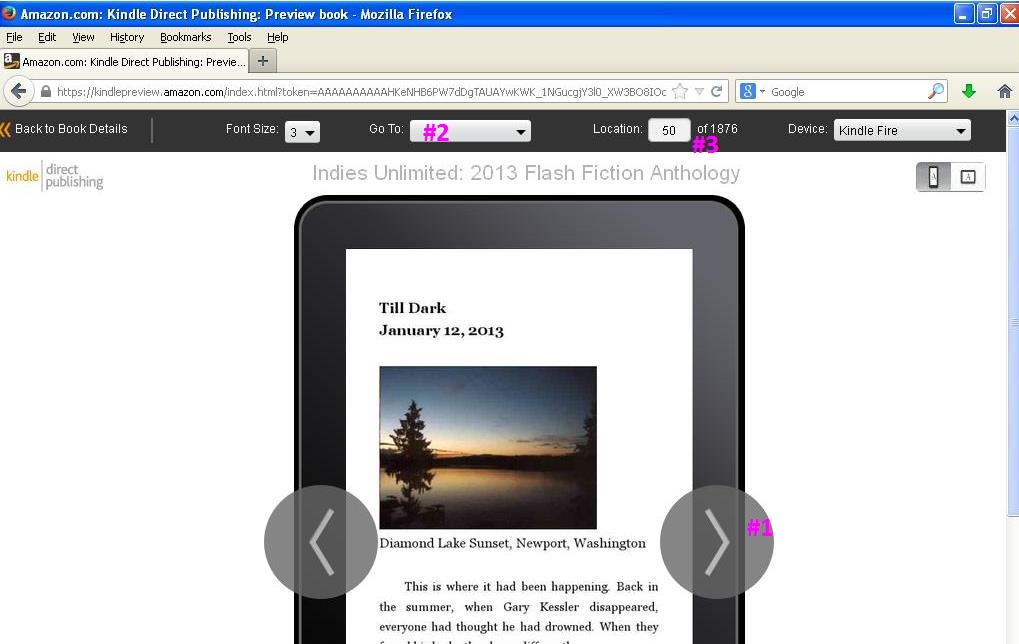 There are three ways to navigate using this simulator. #1 is the large "left/right" buttons on either side of the pretend Kindle. #2 is the dropdown box which doesn't allow great flexibility. #3 is great if you want to skip a bunch of pages and get to the end, you can just guestimate where you want to go and put in that number. I tend to use this to check areas where I think problems may occur – page breaks, indents, pictures with text, etc. In the screen capture below, you can see in the circled area that I've typed in the location number 1670 to bring me to the back of the Indies Unlimited 2013 Flash Fiction Anthology so that I can check to make sure the author biographies are copacetic.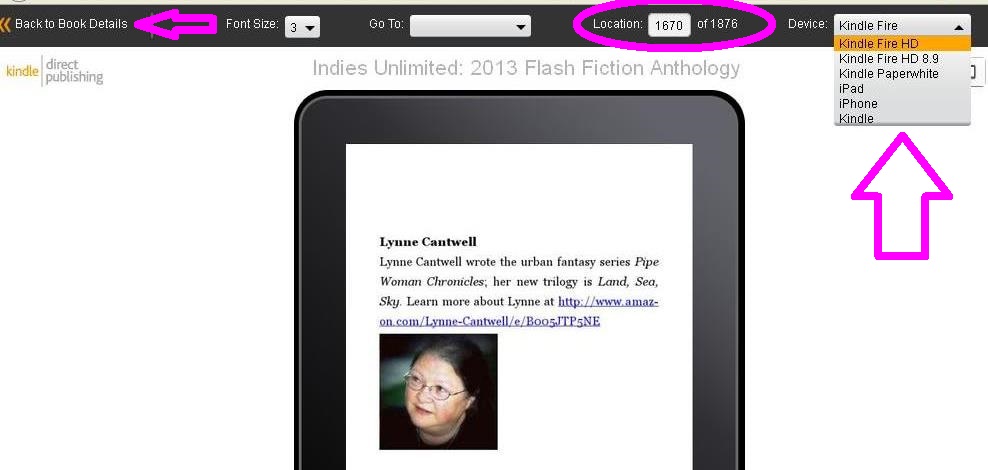 Now that I'm satisfied with how the book looks on the Kindle Fire, I can just scroll up to the right hand corner of the screen and click on the Device dropdown arrow. Now I can select from six other devices and check the file on those as well. Again, I tend to use these to focus on areas I've seen problems within the file.
After I get through my reviews without finding any problems, I email the .mobi file I downloaded earlier to kind folks who have volunteered to look at the file on a variety of devices for me. Once they get back to me – hopefully telling me the file looks fine – then and only then do I press that publish button.