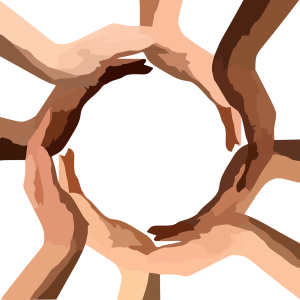 A recent incident at my writers' group sparked the idea for my post today. A writer submitted a piece where he offered no description of characters that exposed their race. However, the things he chose to write about the characters did make people wonder what race some of the characters were. The main character was a white man married to a black woman, and there were subtle hints — particularly around hair care — of the race of the wife, but nothing explicit. He'd done this on purpose, with the idea that he wanted the reader to imagine the characters to be however they wanted them to be. One of the ladies there, Pam, asked, "Why? Why would you want to be less specific about them? I've never heard a good reason for doing this?"
And I totally agreed with her. People motivated by the good intentions of not promoting stereotypes and being inclusive can, by failing to provide certain descriptions, end up with the exact opposite of inclusivity. I can only assume some of the impetus of this comes from Martin Luther King's most famous oration, the "I Have a Dream" speech. People get in their head the notion that a "colorblind" society is literal, rather than figurative. The idea of judging people based on the content of their character rather than the color of their skin is exactly that. It is a notion based on the idea that we see their skin color — no matter what it may be — and we don't make any assumptions based on that. We wait until they open their mouths and speak before we judge them to be fools or geniuses (or somewhere in between).
The idea of literally making characters colorless is problematic when your book is set in the real world. Despite King's dreams, we do not live in a colorblind society. We live in a society where color is an issue in everyday interactions. Pretending it's not in any sort of real-life settings (be they historical or contemporary), just isn't very realistic. Now, if your book is set in some type of fantastical or futuristic world that doesn't have the current world's hang-ups, then fine.
But, setting it in our world and going all blasé in character descriptions doesn't work. Why? Because, as an author, you're failing your readers. Now, do you need to mention the racial attributes of every minor character you see (that rude waiter, or the school teacher who waves hello to your kid)? Of course not. But, if your main character is an interracial marriage, that says something about who he is as well as who he isn't. And to deny your readers that information isn't really helping your book or your characters. A character is informed by his or her life experiences as well as by how he or she is perceived. These things all make up who they are. Ignoring those aspects makes for flat characters. Knowing these aspects about a character, but purposely hiding the information can make for confusing prose (as happened with this particular story in the writers group).
We all know there is a lack of diversity in books in mainstream publishing. It's such a problem that this site was set up: http://weneeddiversebooks.org/mission-statement. While there are diversity issues both in terms of what's on the page and diversity in who is writing, for the purposes of this post, we're just discussing what's on the page. So, if you feel a desire to write diverse characters, do it. Diversity in books is accomplished by having diverse characters in the books, not by having characters who are so ill-described we haven't a clue who they are.
Now, I think some people may shy away from diversity out of fear of being criticized (that's my euphemism for fear of being called "insensitive" or a flat-out "racist"). I am aware that the vitriol is real. Backlash for racial insensitivity is no joke and it's been happening a lot lately. A book about George Washington's slave was pulled as it was deemed insensitive. There was also the issue of Rick Riordian's publisher using white cover art for characters who are black in the book. While you certainly don't want to be insensitive, the answer is not to avoid race in your novels at all.
So, what's an author to do? Well, first and foremost, be real. Write the characters as you know them to be. Listen to what your gut tells you about them. If you want to write characters like the ones you meet on the street, like family members, like your diverse friends, write them. It's good to have a wide-ranging palette. Write your characters as real as you know how. That's your story, so you tell it. But then, get some feedback. If you're writing characters who are different than you, characters who appeared in your head, but with whom you don't have a lot of personal experience, ask for help. Have someone from that culture read it and give you feedback. That should help you avoid any really offensive potholes.
I think books are one of the places that gets us close to the so-called "colorblind" society. While authors offer an initial description of characters, we don't see that description on every single page. It paints a quick sketch in our head, but the content of that character is fleshed out over the ensuing pages. As King suggested so many years ago, we don't judge them by that quick sketch we saw when they were introduced. We judge them by what they do over the course of the book. And perhaps the real world can take a page from the literary world on that.