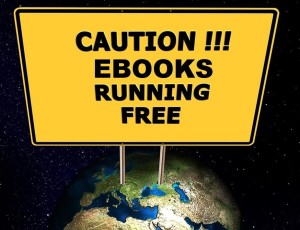 This may be old hat to some of you. But we get new indie authors every day, and also Amazon changes stuff every little while. So since IU is here to help everybody, no matter where they are on their indie-author journey, I thought I'd take a few minutes to explain what it takes to get Amazon to set the price of your eBook to free.
First, let's get the names straight. To sell an eBook as an indie on Amazon, you need to publish it via Kindle Direct Publishing, which is often abbreviated as KDP.
KDP will not allow you to set the price of your book to free. The lowest it will let you go is 99 cents, which gives you a 35 percent royalty (or 35 cents) on every sale. To get a 70 percent royalty, your price needs to be between $2.99 and $9.99.(This is if you don't have a book with a lot of pictures that results in a delivery charge and a higher list price.)
So how do other authors get their books offered for free at Amazon? There are several ways.
You can leave it at full price and hope your readers have signed up for Amazon Prime. If so, they can borrow (not buy) one eBook per month for free.
You can enroll your book in KDP Select. This is a voluntary program that locks you into selling your book at Amazon, and nowhere else, for a period of three months. Be aware that if you don't untick the "automatic renewal" box when you enroll your book in Select, Amazon will roll it over for another three-month hitch. Once your book is in Select, you can set your book free for up to five days during each three-month period. On your Bookshelf, look for the button that says, "Promote and Advertise." (The IU chimp has drawn a red arrow to it for you.)

Click to enlarge

Clicking that will bring you to a page where you can sign up your eBook for free days (or for a Countdown Deal, which is a separate promotional scheme). Free days are available across all Kindle stores (so far) – but Amazon won't let you schedule dates too close to the beginning or end dates of your enrollment period.

If your readers have signed up for Kindle Unlimited, they can borrow (not buy) up to ten eBooks at a time for free. Any eBook published via KDP Select is automatically eligible for borrows through this program.
But what if you want your eBook to be free forever and always? It's a particularly useful strategy for the first book in a series; readers who pick up your book for free, and like it, might buy the other books. Unfortunately, your options at Amazon are going to be limited – but it can be done. Here's how I got Amazon to set Seized, the first book in my first series, free:
I published the book at both Amazon and Smashwords. Unlike Amazon, Smashwords will let you set your list price to free. I also made sure Seized qualified for the Smashwords Premium Catalog.
I waited until Smashwords distributed my book to its partner retail outlets like Barnes & Noble, Kobo, and iTunes. If memory serves, it took less than two weeks. Then I confirmed that my book was free at each of those retailers, and grabbed the URL for my book at each one.
I went into my Author Central account and sent an email to Customer Service, asking that Amazon price-match my book. In my email, I included the URLs for my book at the other sites. (There's also a button on book pages at Amazon where you can report a lower price elsewhere.)
A few days later, Seized was perma-free at Amazon.
There's one more way you get a free copy of your book to your readers: Publish at Smashwords and have Smashwords generate a coupon code for your eBook. Set the discounted price to 100 percent off. Then give the code to your readers. They put in the code at checkout, then download the file and email it to their Kindle device of choice.
Those are the only ways I can think of to get a free Kindle version of your book to your readers. Did I miss anything?