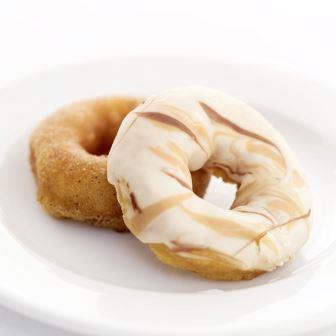 Many authors might not have run into this donut hole while placing their book or books free in this program. I want to explain what it is along with how you can find where it occurs now or in the future, while providing a refresher on how to display the Select information.
First, a little background for those not familiar with Amazon's KDP Select program. This program allows an author to have one or more of their books in this program provided they give KDP Select an exclusive distribution for 90 days. That means it can't be available anywhere else in eBook form during that period. The benefit I'm going to be specifically talking about here is the ability to have that book, or books, free for five days within that 90 day window. Free means people can order them on Amazon free without any charge and without any royalty to the author.
I like donuts, probably a little too much. I could tell some stories, but I would only get myself into trouble. I know…I know…stay on track here.
As a relatively new author with six books, Amazon's Kindle Direct Publishing (KDP) and the "Select" program has been a true benefit to me. It has allowed my books to be published and discovered within the reader world. There are many debates over this program, but I love it. However, on a recurring basis, I run into the donut hole in the Amazon KDP Select 90-day free period.
It's always good to know when current KDP enrollment period exxpires. When I only had one book it was easy to make a note of where the 90-day cycle started and ended. However, with six books, most with different enrollment periods, I lose track of the dates.
To determine your current KDP Select enrollment period for one of your books, go to your dashboard (bookshelf) at https://kdp.amazon.com/. Scroll down to the book you want to check. Click on INFO (red arrow) under the KDP Select column. Note: This is a screen shot of my KDP bookshelf.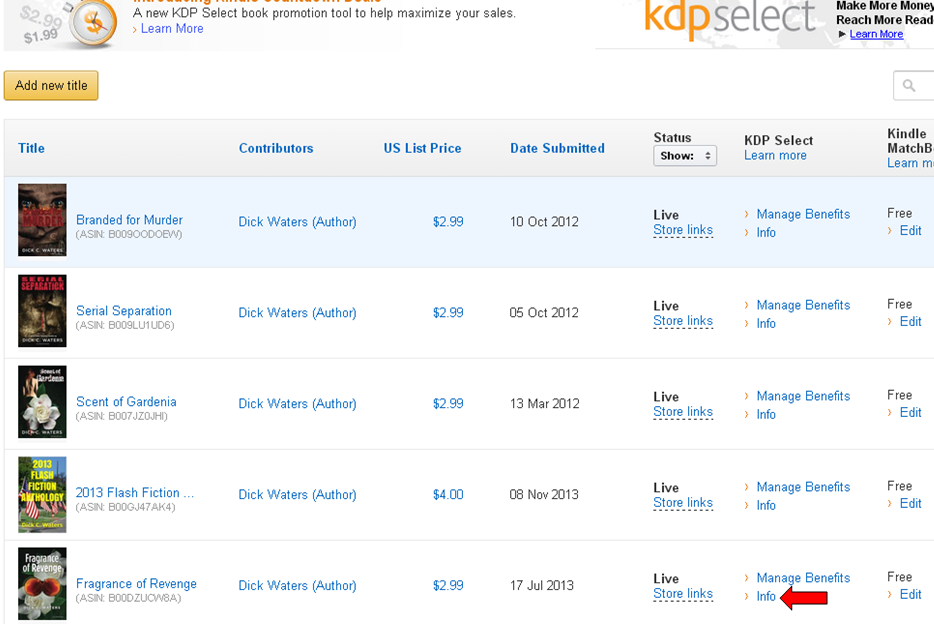 Once clicked, it presents that book's current enrollment period –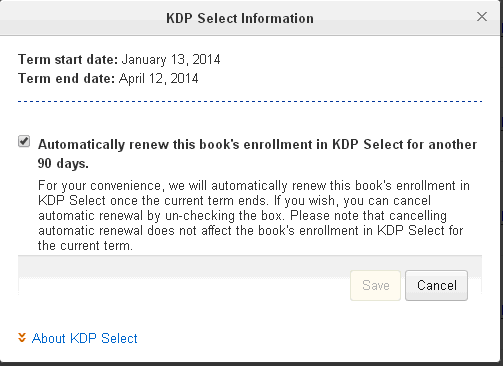 If you want to find out how many days you have used and/or have left to offer this book free, on the dashboard screen, there is a "Manage Benefits" right above that INFO you just clicked. When you click on "Manage Benefits," you'll see this screen –
The above screen shows the previously scheduled promotions during the current 90 day period and allows you to determine how many of the five free days you have left.
Want to create a new freebie? Click the drop-down arrow beside "Kindle Countdown Deal" (which is a different program Select has available. I'm not going to cover that here). When you click that drop-down arrow, it reveals "Free Book Promotion." Click on that.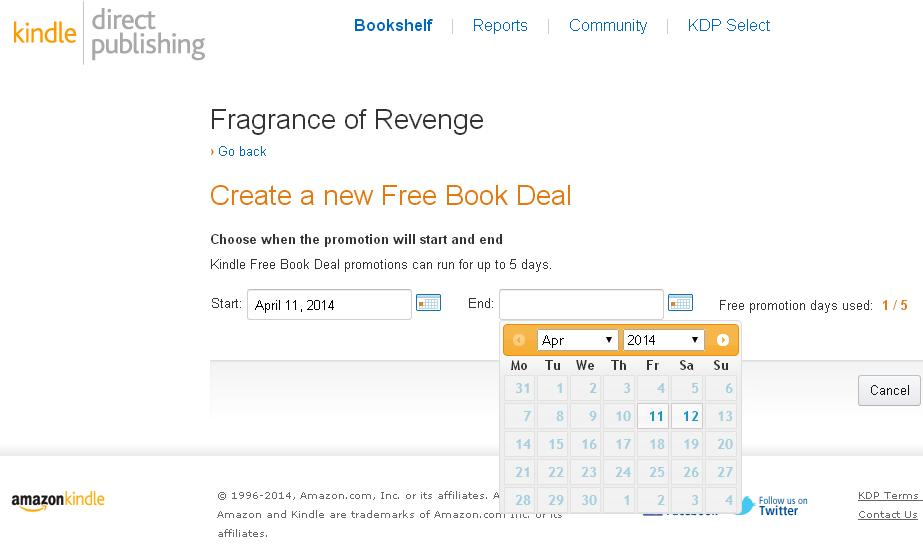 I wrote this post on April 10th. And when I clicked on the little calendar, I saw the above. You will notice only two days seem available – the 11th and 12th.
It took me a while to get here, but here is the donut hole. It exists near the end of a current 90-day cycle, or a future one.
As I mentioned, the April 11th and 12th dates are more visible. As of the screen shot on April 10, the only days left in the 90 day free period for that book were the 11th and 12th. I still have four free days available for that book, BUT if I wanted to run a four-day freebie, I can't. I could only run one day – April 12, since it takes 24 hours to schedule a free cycle. The real problem is this. In the current 90 day period, I can run that book free on April 12th. The new 90 day period starts April 13th – but I can't even reserve that day because of the 24 hour scheduling issue. So, if I wanted to run a freebie, I'd have the 12th on the old period, and the 14th on the new period. I know, you're asking, what's the big deal?
It involves the donut hole's impact on making several of my books free at the same time over a holiday. That worked well for me; I liked the bump in sales following that free period. Back to the donut hole – it wasn't a problem for the Memorial Day or Independence Day weekends, but Labor Day weekend is going to be an issue.
Once I had the Select period end dates for all of my books I decided to run those dates out in 90 increments in a spreadsheet. The bolded dates below indicate two books ending the free period over that holiday weekend which would directly impact scheduling all of them. Here's a section of my spreadsheet to show that conflict –
| | | | | | |
| --- | --- | --- | --- | --- | --- |
| Branded for Murder | Serial Separation | Scent of Gardenia | Fragrance of Revenge | Foreplay for Murder | 2013 Flash Fiction Anthology |
| 7/2/2014 | 6/3/2014 | 6/1/2014 | 4/12/2014 | 4/12/2014 | 5/6/2014 |
| 9/30/2014 | 9/1/2014 | 8/30/2014 | 7/11/2014 | 7/11/2014 | 8/4/2014 |
| 12/29/2014 | 11/30/2014 | 11/28/2014 | 10/9/2014 | 10/9/2014 | 11/2/2014 |
As you can see in the above, one book expires on Saturday 8/30 and another on Monday 9/1, interrupting my Labor Day promotion. And, Scent of Gardenia expires on 11/28, which is the Friday of Thanksgiving weekend. Now I have some work to do to figure out how to handle those situations.
This may not seem like a huge problem, but if you're planning on running promotions, it's something you should keep in mind.