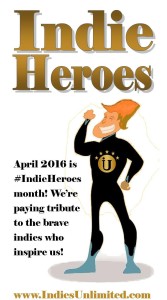 Mild-mannered church organist and accountant, Sable Hunter always had a vivid imagination. When she began writing her stories of cowboy and fair maiden fantasies she discovered she had a talent – an exceptional talent. This talent has helped her sell tons of books, develop an insanely protective group of readers, as well as see her ostracized from the community she served every Sunday. Sable Hunter just "does it". She sets her goals and gets them done with no excuses. Sable is one of my Indie heroes. Here's a rare glimpse into Sable's life.
Martin: We should make it very clear for the readers before we begin; by "naked" we mean to get the naked truth about Sable Hunter, the author. So Sable, you are fully clothed. Aren't you?
Sable: Yes, Martin, I am fully clothed. Everything's covered, but I am comfortable. I run my little make-believe kingdom from the comfort of my own living room. Years ago, this seemed like an unreachable dream. I willed it into being with a lot of hard work and a few prayers and chants along the way. And while I do have complete freedom to travel, to entertain, to bake coo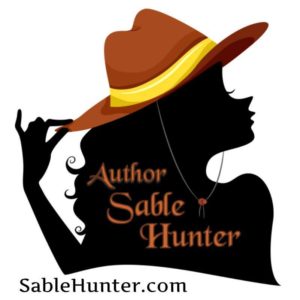 kies – I find that I'm a much harder task master than any boss I ever worked for during my, dare I say, secular career – ha! Writing is much more of a religion than accounting ever could be. The only drawback is that this is a very solitary existence. There are days that I speak to or see no one but my animals and whomever I might pass as I'm walking the dogs. I'm sure that is common for a writer and may explain why I have such an intense relationship with my books and characters. Essentially, I live in their world.
Martin: That shows in your stories. By the way, congratulations, you've amassed a huge following of readers over the past few years. I know that mainly it's because of great content. You've published a couple of truckloads of books and you give your readers what they want but I also know there's more. You're a professional. You run your career like a business. Did that come naturally or did you learn by experience?
Sable: This writing world we live in is unique in many ways and I have immersed myself in it – learning and digging to find every possible avenue to better myself and get my books into the hands of the reading public. You and I have covered much of that ground together and I still tell people what a marvelous influence you have been on my life. I hope to continue to share our journey together. Aside from that, I do have a BBA in accounting and finance with emphasis on marketing – BUT – that only helps me interpret, it does not forge any advantage. While writing itself hasn't changed, the way books are marketed has – and it changes constantly. You have to be on your toes, have able people helping you and not be afraid to lay down one tool and pick up another.
Martin: Sable, can you give us some examples of things you do to continue growing as a self-publisher?
Sable: Yes, I have done it all. Free days, blogs, ads, events – etc. In the past couple of years, I have taken part in box sets that have done tremendously well. This cross promotion has made it possible for me to hit the New York Times and USA Today lists twice last year and hope to do it again in the future. I've also done unique trade-offs with other authors, like writing books using their name and them using my name, Sable Hunter, as a heroine. Gimmicky? Maybe – does it work – yes! Also, very recently, Amazon has made it possible for me to make my Hell Yeah! series into a Kindle World. This allows me to invite other authors to write books in my world, using my characters to meld with their stories and it's a huge cross promotion tool for us all. Amazon pushes us, we push us, people are introduced to new authors and new readers find me. I already have three launches planned with 10 authors in each launch. So, I am always looking for new things to do and new ways to do the things I know that work. I also treat each book, no matter how long it's been published, as a current commodity. Series work best for me, which makes those early books still as critical and important as the day I wrote them.
Martin: And, I'm going to be sneaky and ask you what you do to keep growing as a writer.
Sable: I'll be honest, Martin, my writing has changed. I've matured. Although each stage is still viable. My early books continue to draw readers. I've always prided myself in the fact that in my books story is king. Do I have sex in my books? Hell, yes, I do. But as my writing partner has told me – the readers may come for the sex, but they stay for the story. I have themes in my books, themes and circumstances and challenges that can inspire. I have dealt with everything from human trafficking, to the plight of modern day Native American women, to issues like Federal Government seizing of private land. I also write characters that face issues many readers can relate to – and they do, because I get many letters assuring me of that fact. So, as I write – I'm finding that my love stories are growing to be more suspenseful – deeper. This has led to my taking a big risk and writing a book that is not a romance, it's going to be a mystery/detective series set in New Orleans. I will be creating this with my writing partner, Ryan O'Leary.
It is my firm belief that to grow stagnant means to die – so I will continue to write, continue to grow and continue to challenge myself.
Martin: You're always telling me to produce more, write more. And I try, but in order to up our output it seems to take a self-discipline that I sometimes have trouble attaining. What do you do to get there?  Is it mental or is there a tool you use to spur yourself on?
Sable: The only tools at my disposal are my laptop and my brain. I am prolific. I write about a book a month. Fifty thousand to a hundred thousand words, depending. But you have to remember that this is my full time job. I work eight to twelve hours a day and if I don't write, I don't eat. This is how I make a living and that is a great motivator. When I was an accountant, I didn't get up every morning and decide if I was inspired to go to work – I went to work. I treat the writing in a like manner. You might wonder about inspiration and writers block – etc. What I've found is that a walk or a shower will usually clear my head and if not, I keep three projects ongoing in different phases, so if I get stuck on one, I just move to the next until inspiration hits. And when I think of my bills that I have to pay and the people who depend upon me – I find that to be the only spur I need.
Martin: I'm not sure if you want to touch on this or not and I'm certainly not asking you to share any specifics but I know you have had issues with maintaining your privacy. We live in an interesting time. We are so accessible to our readers through social media yet we all have a part of our life that we want to protect too. I've been fortunate, I've developed some close friendships with many of my readers who I've met online and I know you have too. But still, I think there needs to be a line. How do we govern that? How do we stay open yet keep our life our life?
Sable: Martin, yes, I have lived both a dream and a nightmare. I have been bullied, harassed, stalked and threatened – not only by people online but in my personal life as well. But…in many ways it was my own fault. Due to what I write and the innocence of trying to be honest about what I wrote, I made some mistakes. I billed my writing as erotic when I didn't realize it was mainstream. In my small hometown, I was crucified. Before, during and after this, I worked hard to maintain a persona that isn't really me. I wanted to be obscure, I wanted to be unrecognizable because I knew the community I lived in and the people I lived around would not tolerate finding out my alter ego. I was and am a good person. The inner me and what I did in my religion and my community was just as much a part of me as my imagination and ability to weave a world. But people are not tolerant of someone different – and so, my life has been lived behind a curtain. I have made some good friends; I love my readers dearly. I do not share facts about Rebecca's life. I share some of Sable's but Sable is as much of a character as the ones I create in my books. I owe my readers quality work. I owe them blood, sweat and tears to offer them something that will not only entertain, but touch their lives and linger with them. I owe my readers kindness, consideration, and as much of a friend as you can be to someone far away – but that's all. I have to keep some of my life for me. And, Lord knows, I'm so boring and plain that they would all agree what I give them is much more exciting than the real person behind the computer screen.
Martin: And, now we reach the part of the interview where our fellow writers will read every word very carefully. What's currently working for you in terms of connecting with readers – blogging, newsletters, free promotions, discounted promotions?
Sable: As you well know – free has been my most successful tool. It launched me and I still use it – but it doesn't work as well as it used to. Blogs are good for establishing a brand, building relationships, etc. But I don't find that it really does anything for sales. Discounts have never worked for me, either. Getting my work in the hands of readers who have never met me before is always my biggest goal. I still do free, I run contests on Amazon and Goodreads. I do boxsets with other authors. I do FB events, but those don't work as well as they used to either. Release parties on off-FB sites has always been a tool I use and I send out a newsletter once a month. The heading always has the word CONTEST in it, because that insures people will actually open the email. And yes, I do have a contest, it's not false bait. Recently, I have talked to publicists but I'm country and I'm cheap and I can't see spending $3000 a month on something that might not even work. So, I continue to market myself with the help of those who work for me and through networking and keeping my ear to the ground, I will continue to find and try new things. The Kindle World that I mentioned earlier is a new venture for me. I also was a pioneer and continue to seek out ways to make the same book play new roles – I have different heat level versions of the same book and I also have been picked up by foreign publishers. It's never over – you know – you just keep plugging away and be unafraid to try new things.
Martin: Thanks so much for doing this, my friend. I know you have many irons in the fire and your time is valuable. Tell us what's next for you. What are your upcoming projects and releases?
Sable: I just released a new Hell Yeah on the 15th of March called The Key to Micah's Heart. I'm working on the new genre, the detective novel – which will actually be billed as being written by one of my characters – it should be fun. I also have a Texas Heroes book that will be out soon and my first MENAGE – gasp – in the Hell Yeah! called Ryder's Surrender. My 'to write' list is about as long as many of my readers 'to be read' list. I have about 40 books already on the docket with at least a theme and loose plot ready for me to decide it comes next.
Martin: Okay, you can get dressed now. Or, stay naked, it's up to you.
Sable: Thank you, Martin. As always, you are an inspiration to me and one of my dearest friends.