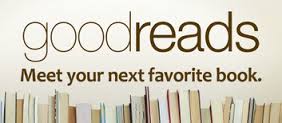 If you've been avoiding Goodreads giveaways, you might be missing out on one of the best opportunities to reach new readers. I hear the arguments about why more authors are taking a pass, though. Books are expensive. Postage is expensive. Fewer winners are reviewing. And everyone wants something for nothing, right?
Well…yes. But I'm still a fan, for several reasons. If I have a new book coming out, a giveaway can help generate interest. In 2011, almost nine hundred Goodreads members signed up to receive one of eight ARCs (advanced reader copies) of my first published book, The Joke's on Me. That's nine hundred readers who hadn't known about me or my work prior to the event. This boiled down to eighty-some readers who decided to add me to their "to-read" shelf. Okay, not great, but not too shabby for a completely unknown author. And of my eight winners, six gave me a written review or a rating. (Giveaway winners are encouraged, but not required, to reciprocate with reviews.)
Since then, I've done giveaways with each of my six print books, ranging from five hundred to nine hundred entries each time. And each time someone enters a giveaway, he or she is given an option to list a book as a "to-read." That's a lot of potential readers, or at least a lot of new people who know I exist. I've also used it to "relaunch" older titles, particularly when I've redesigned a cover. To me, the concept of a Goodreads giveaway is bigger than the reviews — it's about reaching new readers.
Ready to give it a try? Let's go!
1. Sign up for Goodreads at http://www.goodreads.com if you're not already a member. It's free, and mostly straightforward. Here's a great article Melinda Clayton wrote about the basics of Goodreads.
2. Build yourself an author page. Populate it with your books and, if you'd like, your blog.
3. Schedule your giveaway. Go to http://www.goodreads.com/giveaway or your Goodreads page for your book, and click on "list a giveaway" from the list on the right side of the page.

Some important tips on the form:
Start date/End date: Your start date must be, at minimum, a week after you submit your giveaway. This is a new policy. I'm not sure why Goodreads changed this; I asked and the answer wasn't all that clear. Your actual mileage may vary when it comes to the end date you choose. Goodreads recommends a month, but I've found that two weeks is a decent run. It's enough time to get the word out but not so long that it feels like I'm constantly badgering people about it.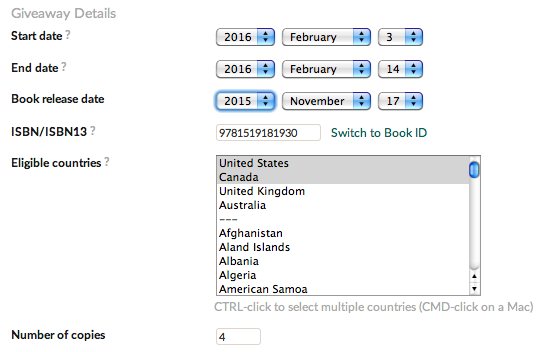 Eligible Countries: I live in the US. I can ship books to winners in the US using the less-expensive media rate. But there are a lot of readers in Canada, and I don't like to disappoint them by leaving them out, so I will pony up the extra postage to include my north-of-the-border neighbors. When I'm feeling more flush, I'll add the UK, Australia, and India. If you want that worldwide domination we all strive for, it's a good idea to open up your giveaway to as many countries as you can.
Number of copies: I've varied the number of copies, but generally, the more copies you offer, the more entrants you will get. Of course, those books might also end up on eBay, but that's the price you pay. Hey, maybe someone else will buy them and love them.
Description: This form field allows for 1500 characters. Readers looking at your giveaway box will get a "more" link not very far into the text, so I like to keep my pitch short. Basically I use a tag line for the book and something like "Enter for a chance to win one of X signed copies of…"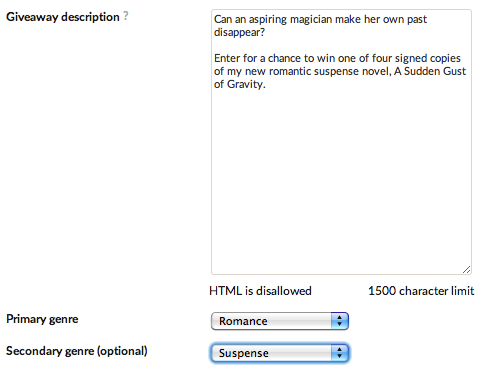 Terms and Conditions: This is a big one, and now Goodreads requires that you click on the link before you hit "agree." (I guess so they can claim that at least they waved it under your nose. Then if you violate any part of it, it's on you.) When readers sign up for a giveaway, Goodreads assures them that their personal information won't be used egregiously. That extends to author contact. Authors are expected to refrain from contacting their giveaway winners (beyond sending the book, of course) or contacting those who signed up and didn't win. This contradicts advice that some book marketing bloggers are giving out. So please avoid spamming the nice readers who sign up to win your book, unless you want to risk landing on the "author behaving badly" list or get bounced from Goodreads. Here's that specific part of the Terms and Conditions, swiped right from the Goodreads website:

4. Verify your giveaway. Goodreads will send you an email with your giveaway details. Click if okay; edit if it's not, but revising your submission might delay the approval process. (They say it normally takes two or three days, but mine was approved overnight.)
5. Watch the entries pile up. To help get eyeballs on your promotion, Goodreads offers a widget tool you can post on your Internet whatnots. Tell your friends and fans, too. Over the last couple of years, I've seen a fairly consistent pattern in entries: more will surge in at the beginning and at the end.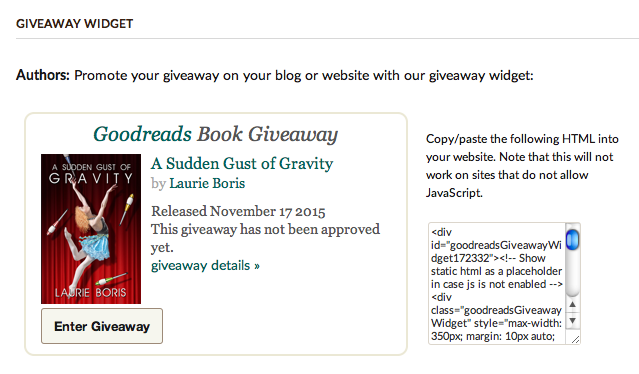 6. When you get the email from Goodreads with your winners, send your book(s) out.
Good luck, have fun, and remember to send your books!
Note: If you want more information about the Goodreads Author Program, please visit their Author Program page here.