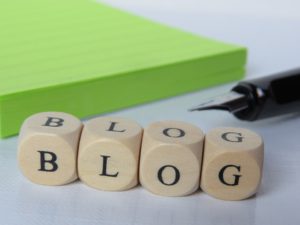 Back in the dawning of the eBook age, when I signed on with a small publisher for my first novel, one of the requirements of my contract was to start my own blog. I knew what blogging was, but I hadn't seen any point to having one of my own – mainly because I didn't think I had anything to say that other people would be interested in reading unless I'd made it up.
But since I was now contractually obligated to have a blog, I went to my internet service provider, which at the time was Earthlink, and used their tools to set one up. The name of my blog, which rolls trippingly off the tongue even now, was, "Allegedly, She Has Something to Say." I think I wrote a total of four posts over the course of many months before giving up.
In mid 2011, as I was about to go indie with my second book, I decided to try blogging again. This time, I did a little research, and discovered there were three main blogging options at that time:
1)      I could set up a blog at Blogger.com.
2)      I could set up a blog at WordPress.com.
3)      I could drive deep into geek territory by setting up my own website (or having someone else set up a site for me) using WordPress.org software, which includes blogging functionality.
There were other options that a few people I knew were using – Weebly, Wix, LiveJournal – but Blogger and the WordPress gang seemed to be the most common choices.
Because I'm not the most technically literate person in the world, I chose door number 1. The setup process was pretty easy, and within a very brief time frame, I had my new Blogger blog, hearth/myth, up and running. I set a goal to post every Sunday night, and so far I've been pretty good about sticking to that.
Authors today have new, swanky choices for blogging platforms. One option is Tumblr, a social media/blogging site. In addition, I've experimented a bit with Facebook's Notes function. You could also use Medium. Both are set up with very clean layouts, so you can just start typing.
But what if you're like I was when I first started, convinced that you don't have anything interesting to talk about? Well, you wrote a book, right? Or are in the process of writing one? You could talk about that. But blog readers are looking for more than just a progress report on your new book. Think of things that are related to your writing, and post about those. For example, if you have a character who's a chef or a foodie, you could blog about the research you've done (hint: people love it when you include a recipe). If your book is set in a specific locale, blog about why you picked the place. And if your hobbies find their way into your writing, you can blog about that. I'm a knitter, and one of my most popular posts was one where I explained why I'll never have an Etsy shop for my knitting.
Some authors use their blogs as a showcase for their shorter fiction. If you enter IU's flash fiction contest every week, you could also post your entry on your own blog. Other authors stick to posts on the craft of writing, from nitpicky grammar rules to story structure, and everything in between.
Perhaps the biggest thing is to be consistent. Don't do what I did with my first blog and post once in a great while – that's not how you develop a readership. Be a blogger your readers can depend on. If you can't post every day, post once a week – but commit to that once-a-week post as if you were doing it for your boss.
Good luck with your new blog!