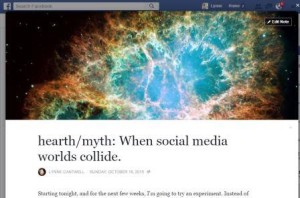 For the past couple of months, I've been conducting a little experiment with Facebook's Notes feature, and I'm ready to declare it something of a success.
I got the idea from a post I saw on Facebook (surprise!). A Canadian journalist named Mitch Joel mentioned that he was going to begin using Facebook's upgraded Notes feature as a blogging platform. For years, Joel said, bloggers have hosted their blogs on their websites, or on blogging platforms. Then they would put a link to their posts on social media in an effort to drive traffic to their own site. Once someone is there, the conventional thinking goes, they may take a look around and maybe even buy something from you.
But readers are sometimes unwilling to click a random link to an unfamiliar site. And besides, they're already on Facebook. If the point is to get readers for your posts, why not blog where the readers are?
So on October 18, I began my experiment. First, I wrote and published my post on my blog. Then I copied the post and published it twice on Facebook: once as a Note on my author page, and again as a Note on my timeline. I also posted links on Facebook to the posts on my blog, just as I have always done.
I expected to run the trial for about three weeks. But with one thing and another, I've now been doing it for eight. I haven't run the numbers for this week yet, so I'll stick to reporting on my first seven weeks.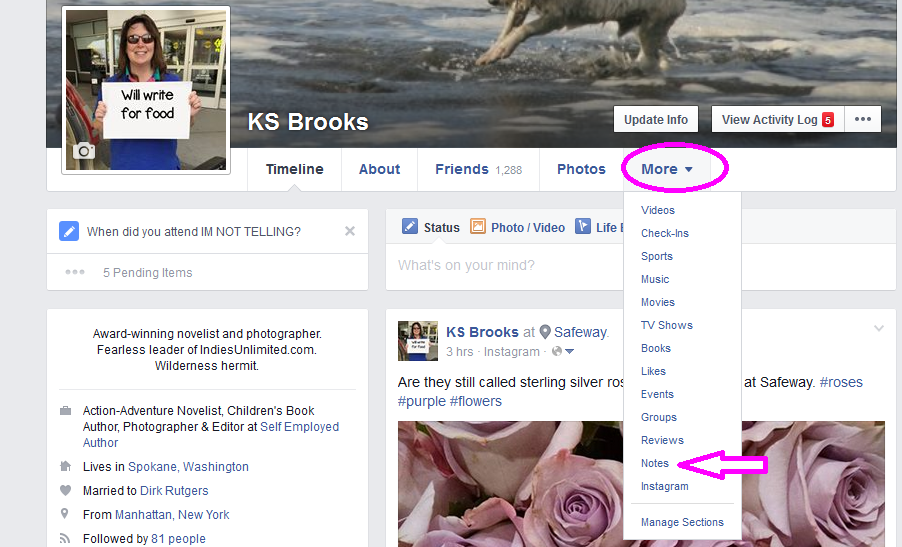 Here's how you find Facebook Notes (on your profile) Click to enlarge.
About the new Notes feature: You may remember Notes from a few years back, when it was a place to write longer posts than Facebook would otherwise allow. In the intervening years, they've pretty much done away with length limits on posts, so Notes went into hibernation until this past summer.
The revamped feature looks a lot like a WordPress blog – the layout is very clean, with lots of white space on either side of the text and a big header photo. You can insert sub-headlines and other photos pretty much anywhere you want. Formatting is easy – highlighting the word or words you want to highlight brings up a dialog box that allows you to bold, italicize, or underline your text, or insert a hyperlink. When you hit "publish," Facebook automatically posts a notification for you (subject to the usual restrictions on reach).
You can't track views/reach on a timeline post, as far as I know, so I can't compare apples to apples exactly. But I can tell you that I definitely get more likes and comments on Notes posted to my timeline than I do to the ones posted to my author page. That seems a little unfair, as Facebook won't let you pay to boost a Notes post (although paying for boosts has generally proven to be a waste of money – for me, anyway).
I can, however, compare Facebook reach on my author page Notes vs. views on my blog. Because I use Blogger, my posts are automatically shared on Google Plus; I also give them a +1 manually. My reach and views are trending upward on both platforms: On October 18, I had a 34 reach/45 views; on November 29, I had a 313 reach/100 views.
Some of the difference is likely to be content-related. My October 18 post simply explained the experiment, while my November 29 post was about what to do next with your NaNoWriMo novel. But I think there's more going on here. I think publishing more places is causing my blog posts to be seen by more people.
When I first announced my experiment, a friend in marketing cautioned me that cross-posting might cause Google to ding the Alexa rank on my blog for duplicate content. However, the opposite has happened. On October 11, the week before my experiment began, my blog was ranked a dismal 10,116,802 globally. As of December 5, I was at 4,916,776. Okay, just under five million is still pretty dismal – but it beats ten million.
I think the big jump is due to several factors. For one thing, I had never claimed my blog on Alexa until partway through the experiment. Apparently claiming your site gives you a boost. But I was already moving up in rank before I did that.
In addition, it turns out that it's relatively easy to move up a lot when you're in the cellar. This post from the Alexa blog explains how that works. Scroll down to where they talk about how the number of visitors to your site affects your rank – just a few more views can give you a big jump.
Tl;dr: Reposting my blog posts to Facebook Notes has gained me some extra views, and so far there's been very little down side. I intend to keep doing it.