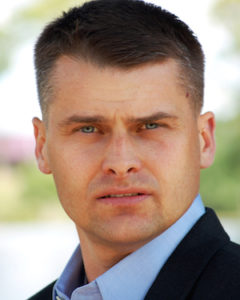 Guest post
by Jason B. Ladd
"How am I supposed to know which book promotion services are effective?"
That was the question I asked while planning my second book promotion, and it was the genesis of IndieListers.com.
IndieListers has become the web's largest free database of book promotion results to help authors find and pick effective promos. I'll explain more below. But first, some backstory.
Backstory
For the launch of my book One of the Few, I picked three services that came recommended from someone in the book marketing industry: Books Butterfly, Awesome Gang, and Robin Reads.
I priced my book at FREE, paid $150 in fees, and received 2,684 downloads over a three-day period. This was enough to hit #1 in several free categories including "Christian eBooks and Bibles/Christian Living" and #79 of all free Kindle eBooks on Amazon.
Show Me The Money
Since I was a bestselling author with a #1 book on Amazon (ahem), I ran a single promotion one month later on Buck Books to see if I could make some money.
I priced the book at $2.99, paid $32 in fees, and received 41 downloads.
Result: profit.
A week later, I ran promos on eReader Girl and Fussy Librarian at $0.99, paid $35.00 in fees, and received 20 downloads.
Result: loss.
No Method = Madness
I was in experimental mode. There was no method to my promo-selecting madness. And that's no way to spend a limited amount of cash.
"Site A" has a daily reach of millions. "Site B" blasts an email to 50,000 members. "Site C" says something about Alexa and click-throughs. Every site claimed to touch a million readers, but no site could report how many readers touched the books.
"There was one metric third-party promoters couldn't give me: number of actual books downloaded."
That metric is reserved for agents, publishers, and in the world of unlimited Indies: authors.
I continued asking questions:
Wouldn't it be nice if authors shared their book promotion results?
Wouldn't it be nice if they were all in one place?
Wouldn't it be nice if I could gain some insights in order to methodically pick good promos?
Good News and Great News
Well, there's good news and there's great news. The good news is Indie authors seem to love sharing promotion results. The astute author has realized that book publishing is not a zero-sum game.
When one author gets a download, the other author doesn't lose a download. Since readers are accustomed to downloading $0.99 and free books, they're more likely developing a downloading habit.
"When one author wins, we can all win."
But historically, promo results have been buried in forums and comment threads that many authors will never find. The great news is that I've created a database where it's super easy for authors to browse and share book promotion results.
And it's free.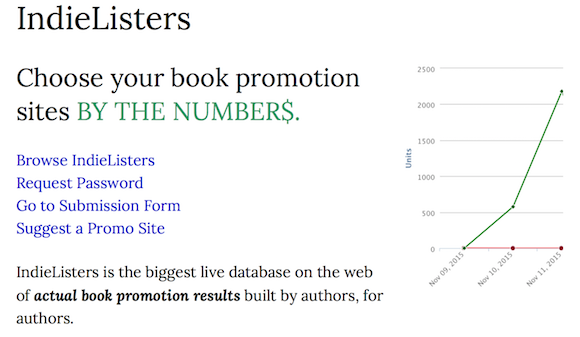 The Power of the Debrief
One thing I learned flying for the Marines is that some of the most important learning points from a mission occur in the debrief.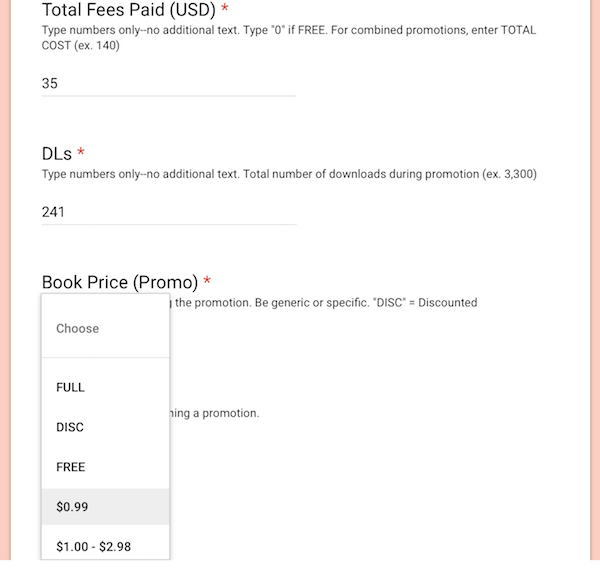 IndieListers provides an opportunity for authors to debrief their promos and help others learn what works and what doesn't. And the database is built exclusively by authors who have been confirmed through an IndieListers Author Verification process. This prevents erroneous data entry by nefarious evildoers.
How You Can Use IndieListers
Here are just a few ways you can use the database:
See which promos authors are using
View the cost-per-download of other promos and promo stacks
Estimate profit or loss from someone else's promo
Read comments about author experiences
Find out what kind of promos authors are running: free, discounted, paid, etc.
See who's Amazon only, and who's wide
Connect with authors via Twitter or their website
Browse the list of 200+ book promotion site links
Does It Really Work?
After analyzing data from IndieListers, I planned my fourth promo. The result was 5,475 downloads over a two-day period for my free book — a massive improvement from my previous stabs in the dark. (Want the details? You can find them on the database.)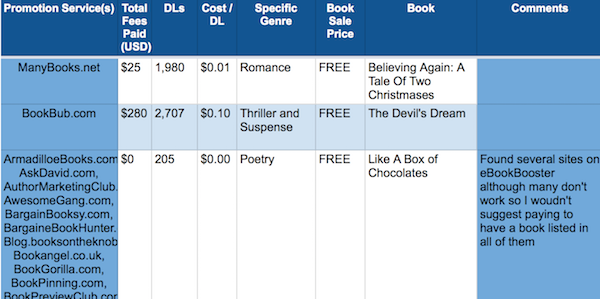 The data is already helping me plan my promos, and I'd love for it to help you, too. You can sign up for free and start browsing now at IndieListers.com
IndieListers might not be the end of your journey to crack the code on promos, but it's a great place to start.
---
Award-winning author Jason B. Ladd is an author, Marine, and Iraq War veteran. He has flown the F/A-18 "Hornet" and the F-16 "Fighting Falcon." Find out more about him at his website and check him out on Amazon Author Central.