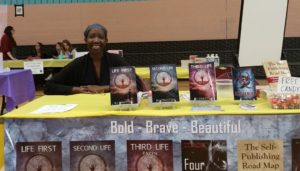 The warm-weather months are upon us, and this often means book festivals, book fairs, conferences, and other events. So, this seemed like as good a time as any to offer some tips on what authors need when selling their books at events. While events vary, the basic needs tend to be pretty similar.
First, before you go to the event, find out what you'll be getting. Different events have different standards. Some events just provide space and a chair, and the author needs to bring a table. Many events provide a table. Sometimes you'll have a table to yourself, and other times you'll share a table. Presuming you have a table and a chair to sit in, what else are you going to need? I've broken the list into Must Haves, and Good to Haves.
MUST HAVES
Table Cloth. Many of the tables provided by places are dirty and scuffed. You don't' want your books on that. Even if you bring your own table, it just looks nicer with a single-colored table cloth on it. You can get a cheap plastic table cloth that will mask the dents and pits of the table, or, if you go to a lot of conferences, get a sturdy reusable tablecloth (or grab the one that you only use at Thanksgiving and get some additional use out of it).
Books & a Pen. Okay, maybe this one is a duh, but you need to have books. How many? It totally depends on the venue you'll be at, how long you'll be there (a couple of hours on one day, vs. several hours for two to three days), and what your salesmanship is like. Generally, for a few hours on a single day, as an average or below average salesperson, you're probably good with ten copies of your book. However, if you previously worked in sales and killed it with high commission, bring more. If you want additional guidance, you can check with the event organizers and see what they think is a good number of copies to bring. If you have a series of books, bring more of book one, and fewer of the remainder of the series, as a lot of people take a chance on book one, but aren't going to buy an entire series from a new author. Order your books at least two weeks before your event, though three weeks beforehand is preferable. Sometimes things get backlogged, so you want to make sure you have books. Offer to sign any books sold. This means you'll also need a pen.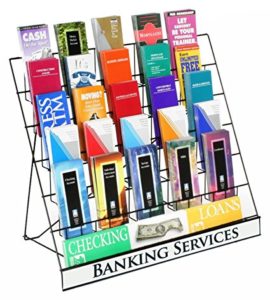 Display Racks. You need something that will put your books upright, so people can see them as they walk by. You want that cover easy to see as potential readers pass by. If you only have one or two books, get a few single displays. I participated in the College Park Book Festival in April and I saw several people with this kind of stand for their books and said to myself that I should get one those. These run about $5-6 apiece. If you only plan to do one or two events, you can find cheap plastic stands at the Dollar Store. If you have a lot of books, consider a large display rack. Also at the book festival, I saw a couple of people with ones like this, which let you display multiple books. I have nine books at the moment, and I didn't have enough room to display them all with just my individual racks, so I'm probably going to buy a large rack for the next event I attend. I'm not sure which in-person stores you'd find the big racks at, so be sure to allow enough time for delivery. For the single book displays, you can find them at office supply stores or order online. If you plan to buy in store, make sure to go well before the event, so that you can order online in case you don't find what you want in the stores.
Bookmarks/Business Cards. You want to have something people who don't buy your book can take with them. You can make custom bookmarks and/or business cards on a variety of sites, such as VistaPrint, Overnight Prints, UPrinting.com, or even your local printing stores (like Staples or Office Depot). Some people like to use a book cover as one side of a business card. Others prefer a more basic card (what if you're promoting a different book?). For bookmarks, you can include a couple of book covers or a cool quote from your book on a pleasant background. If you think it's too much for you to design, Fiverr has people who offer bookmark design. One consideration with using book covers on your bookmark/business cards, is that if you change your cover, your cards become obsolete. Your bookmark should also include your website, so readers can find your books. These are obviously custom deals, so give yourself plenty of lead-time (two weeks) to order, so they can be printed and shipped. Sometimes, even local office supply stores have them done off-site and shipped.
Credit Card Reader. Cash is no longer king, so you need to be able to accept credit cards. This is not hard to do. Square is the perfect way to do that. It is FREE. They send you a card credit card swipe reader for FREE. The reader connects to your smart phone and works with the Square App that you download free. Like all credit cards, a percentage is taken from each sale, but it's well worth it to be able to offer a service that most people have come to expect. Hell, there's even a homeless man who takes credit card donations. If he can take credit cards, so can you. Allow a week to get your reader device. Here's an overview of some of the mobile card readers for you.
Cash. While cash may no longer be be king, a lot of people at festivals bring that, too. So, if you're selling your books, be sure to have enough cash to make change. Some people suggest pricing your book in such a way that you don't have to give singles back as change ($10 per book, for example). Having some fives and tens available to make change for the dude who hands you a twenty or a fifty is essential. You may want to have a receipt book for those who request receipts. With Square, receipts are emailed.
Payment Signs. A sign that lists the price of your books and what payments are accepted.
GOOD TO HAVE
Candy. Want people to get close to your table? A little basket of free candy on the corner will help. They'll at least get close enough to look before they grab a candy. If it's an outdoor festival in a warm weather month, no chocolate, because it melts (I made this mistake once). After the festival, take any leftovers to the office (or church or your kid's school teacher lounge), so you don't add an inch to your waistline.
Banner/Poster. I'd almost include this as required, because a lot of authors have them. They tend to pop, but it adds a ton to your costs if you're only planning to do one event. Bookmarks, books, etc., can easily be repurposed for giveaways. I ordered a banner last year from Walmart for $25, and it was ready two days later. However, a banner this size presumes you'll have an entire table to yourself. At some venues, you'll share a table. That's why, in the future, I'm going to get a poster with a stand, or a retractable banner (more expensive). Either of these can be placed directly next to your table, and draw eyes to it in a big way. I see more and more authors with these vertical posters on a stand, and think they're great. Posters are purchased separately from the easel, except with retractable banners. Completion times on these vary. If you need it made and shipped, allow at least two weeks. If it's a local place and you can pick it up, you might be able to get it sooner. Most office supply store and online printers will sell you banners. You will likely have to design what you want on it. If you're not into design, check with your cover designer, as many of them also will design ancillary products. Fiverr also has some artists who do these things.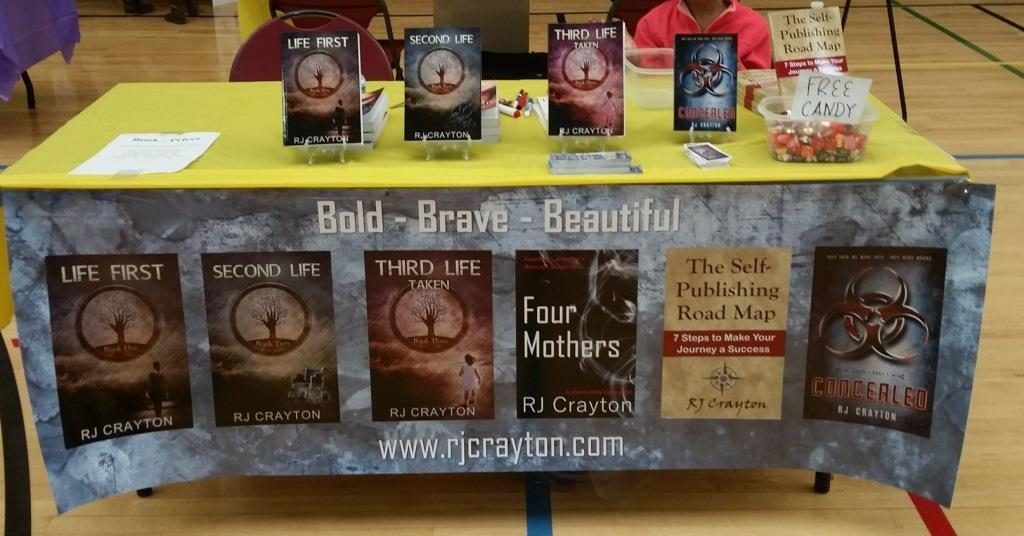 An Assistant. I'm not suggesting anyone go out and hire an assistant, but I needed a pithy one-word way to describe this, and assistant is it. By assistant, I mean a friend or family member willing to tag along and help out. If you've got a table all to yourself, that means your table is empty if you have to run to the bathroom. It means that if you have a person come up while you're talking to someone else, your assistant can immediately greet them. Your assistant can help you carry stuff and setup. They can also take photos of you at the event, which are really useful for social media. I use my daughter as my assistant because she likes to come to these things. Assistants are totally optional, but really handy. For all-day events, the assistant might not be practical, but if it's three to four hours, it's totally doable. Also, take your assistant out for a meal afterward. You two deserve a little celebration! If you don't have someone tag along, be friendly to the people on either side of you. Chat them up while you're setting up, and ask them to keep an eye on your table if you need to run to the restroom, or otherwise have to step away from your table.
Swag. In addition to bookmarks, some people have other swag available. These things include pens, keychains, plastic cups, refrigerator magnets, etc. Most authors don't spend time on these because they're expensive and aren't likely to result in sales. However, depending on the kind of event it is, maybe handing out a few of these things could be useful. Lots of places make these things. Just do a Google search for "trade show giveaways" or "trade show promotional items." We also have a list of book-cover swag items on our book cover resource page here.
Other Stuff to Sell. This is really entirely optional, and I mention it because I saw it at a recent event I attended. There were authors selling things other than their books. One author sold earrings that had a quote from their book dangling from it. Another author was selling candy bars, too, and I saw another author who had boxes of Girl Scout cookies (can you say multi-tasking mama?).
Mailing List Sign Up. Some people like to include a mailing list signup sheet right there at an event. You can do this if you'd like, especially if you offer a freebie to readers who sign up for your list.
I hope this helps. If you're looking for more tips on book festivals, check out Melissa Bowersock's article here.