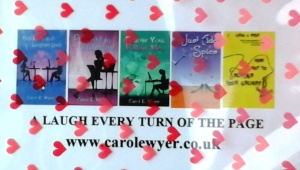 Author business cards are important (See Codebreaking For Beginners) and we often hand them or postcards of our latest novels out in the hope they will generate sales. However, how many times do you get that feeling that as soon as someone walks off with one of your cards, it'll be forgotten? It will stay in a wallet or purse until the person empties it or worse still, it will be thrown away in the nearest bin.
Here's a simple way to engage people, to make them read your card and hopefully hang onto it a little longer rather than throw it away without looking at it.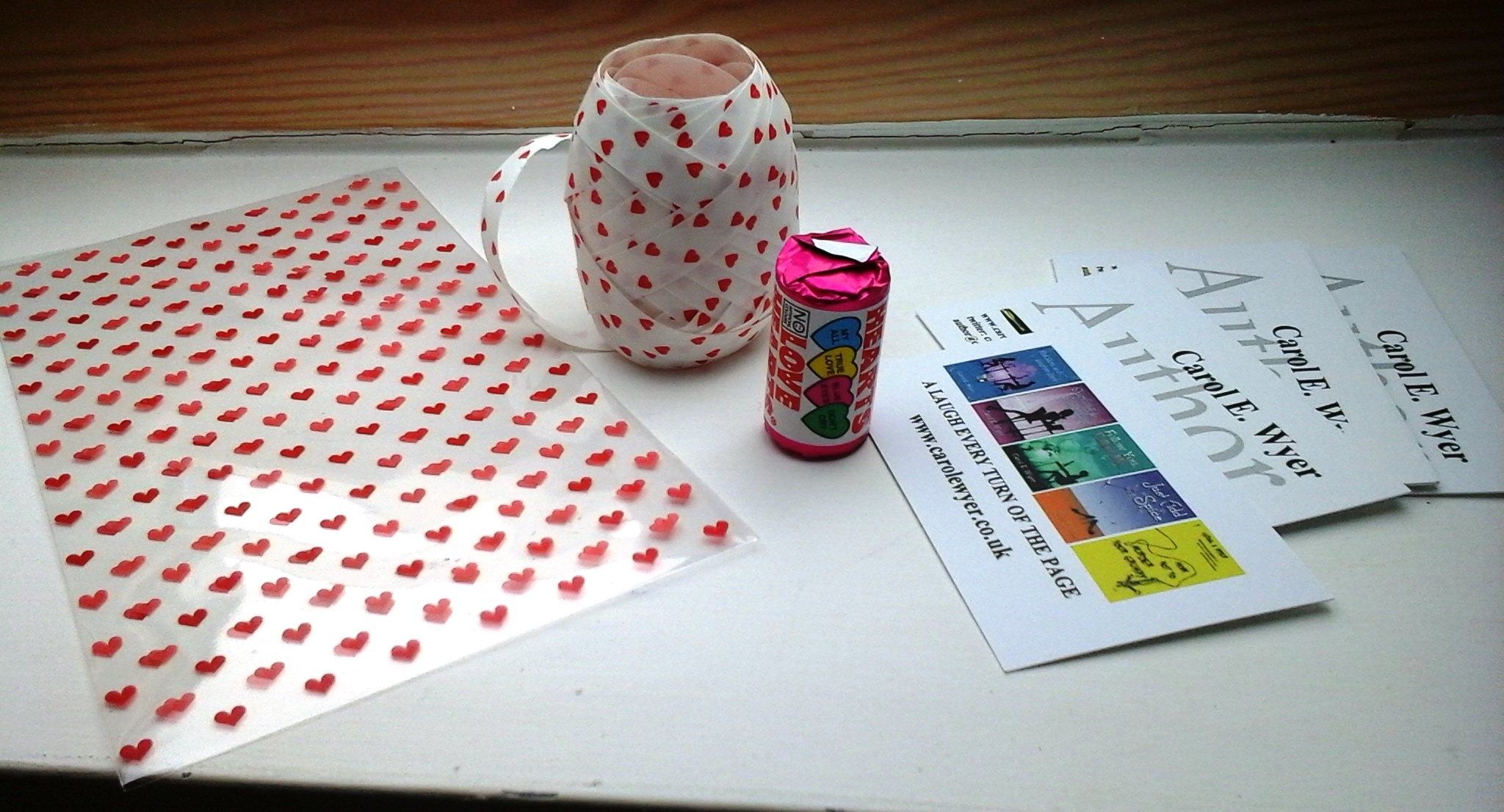 Purchase transparent or patterned food/gift bags from a cheap retail outfit. I got one hundred bags decorated with love hearts last year in a sale, for a mere £2 ($3.35).
You also require matching ribbon, your business cards and a treat. By treat, I mean a small roll of sweets, a wrapped chocolate or a tiny gift. Gifts can be cheap key rings, small badges (like my flashing Mister Smiley badge below to accompany my Grumpy books) or anything appropriate. You really don't want to spend much money at all, so scour shops during sales or look at low cost retailers such as Poundland in UK.
I took advantage of the fact it was soon to be Valentine's Day and bought one hundred small packets of Love Hearts for £3.00 (approximately $5.00) to put in my gift bags. My generation are nostalgic about these sweets. They were a childhood favourite for many.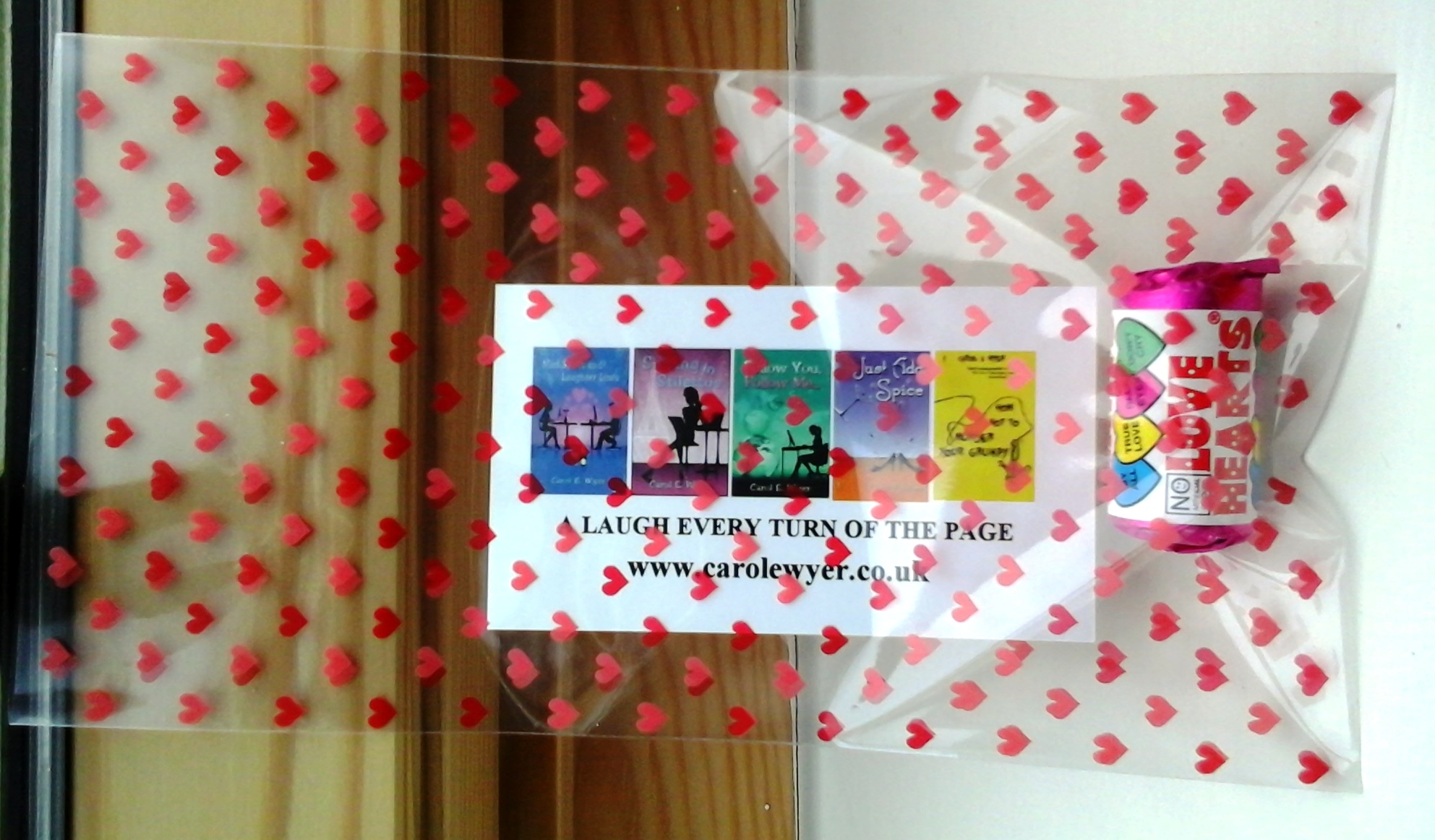 Place one packet of sweets, chocolate or gift into the plastic bag along with your author business card. Tie the bag with ribbon. Hey presto! You now have an attractive bag to hand out instead of just a card. You can make the bag even more attractive by adding stickers to the outside.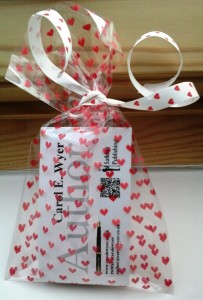 I found people to be far more appreciative of a small gift bag than a business card or postcard. I heard one woman exclaim in high-pitched excited tones, "Oh, Love Hearts, I haven't had those for years." People chatted to me, asked me questions about my books and didn't leap into the nearest shop in an attempt to avoid me as is normally the case when I stand in the street handing out postcards or leaflets. People are far more likely to accept a small gift bag from you than a card. They are curious. Besides, who doesn't like a freebie?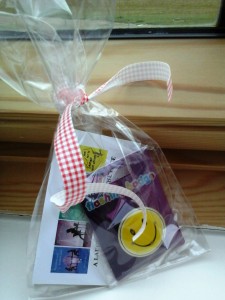 You can try this as part of a book launch, or just to boost sales during a lull. Retailers cash in on celebrations like Easter, Mothering Sunday, Valentines' Day and so should you. Try giving out miniature chocolate Easter eggs, flower-shaped chocolates for Mothering Sunday or think of other ideas. If you've got a book about sports, get some energy sweets. If you write horror, add those Haribo jelly sweets shaped like skeletons or ghosts you can purchase all year.
Were my cards well-received? I think so. The last time I handed out fifty business cards in the street, I sold only three books. On Valentine's Day, I handed out all of my bags at a total cost of £6.00. I checked my sales forty-eight hours later and discovered I sold seventy-three books at an average cost of £1.99. If the people who bought those books enjoyed them, they should buy one or more of my other books. So, I would consider that a good result.
Next time you feel you could do with a boost in sales, try it out. If you ensure you don't spend more than the cost of a couple of books then it'll be worthwhile. I bet more people will look at your business card and remember you as a result.