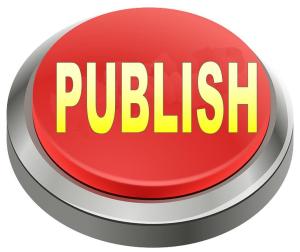 I admit it. When it comes to where and how I publish my books, I've been on autopilot for the past several years – I put all of my eBooks in KDP Select and publish my paperbacks with CreateSpace. So when someone in the IU Fans Facebook group asked what alternatives exist today for indies who don't want to put their books into KDP Select, I figured it was time to do a little digging.
It turns out that not much has changed in the three years since we last looked at publishing choices. Indies still basically have four options for eBook publishing: Amazon's KDP, Apple's iBooks, Nook Press, and Kobo.
Earlier this year, Author Earnings released a report showing Amazon is far and away the leader, with more than 80 percent of English-language eBook sales worldwide – both indie and traditionally-published – and 91 percent of indie eBook sales. iBooks is in the number-two slot. Nook Press is third, but only in the US; elsewhere, it's not even a blip on the radar screen. Kobo does very well overseas, but is outsold by Google Play in the US.
So if you're looking for the biggest audience for your work, Amazon is still the place to be. Now, that doesn't mean you must be exclusive to the Zon; you can opt out of Select and go wide via a distributor like Smashwords or Draft2Digital. The guys at Author Earnings acknowledge there's no easy answer here. But they do point out: "KindleUnlimited has grown into a Top-3 ebook retail channel in its own right; KU is now paying indie authors twice as many dollars as Barnes&Noble's Nook is paying to all publishers combined. To completely ignore a retail channel of that size makes zero sense."
One more point: Nook Press got some bad press in August when it began locking authors out of their accounts for alleged violations of the terms of service. The Digital Reader reports those accounts are being slowly reinstated.
As for paperback publishing, the top dogs these days are still CreateSpace, IngramSpark, and Lulu. IngramSpark is drawing a lot of interest, and I've heard some indies talk about publishing with both them and CreateSpace. IngramSpark has better terms with brick-and-mortar bookstores (they will buy back books that don't sell – CreateSpace won't) and CreateSpace has faster distribution to Amazon.
However, as of this year, we have a new player in Amazon's print book service. RJ Crayton recently wrote about her experience there, so I won't go into detail – other than to say that many indies are finding the inability to order a proof copy through Amazon's new platform to be a deal-breaker for them. Amazon owns CreateSpace, too, and you have to wonder whether Amazon intends for CreateSpace to go dark eventually.
Also new since our last update is a slightly expanded list of publishers for hardcover editions of your book. For a long time, only Lulu would do hardcovers for print-on-demand books; now, IngramSpark and BookBaby also offer them.
That's pretty much the state of things these days, and I'm relieved. I'm not as far behind the times as I thought. Whew!
One more thing: As always, if someone wants you to pay them to publish your book, RUN. Run far and run fast. Vanity presses might work okay for ten copies of a book of Aunt Edna's favorite recipes, but they are not viable publishing platforms if you want to make any money in this business.