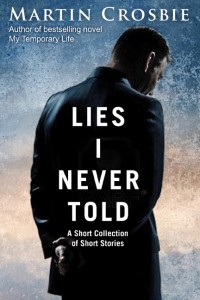 Lies I Never Told
by Martin Crosbie
Genre: Literary Fiction/Short Stories
Word count: 19,000 words
"It's what we do. We make our own beds. We become thirty and then forty and we divorce and re-marry and visit our children on weekends, and work at jobs we never dreamed of doing, and have too many relationships with people we don't like, and on the outside we look like any other forty-year-old hero. We're not though, because it never goes away. No matter how hard we try to hide it, inside we're still seventeen, sitting at the river, looking for the girl with the brown eyes."
In this collection of short stories, Martin Crosbie, the bestselling author of My Temporary Life, presents us with a glimpse into the rear-view mirror of life. Crosbie's writing is quiet, so quiet that when the crash comes you suddenly realize you've been gripping onto the edge of your chair, living the story right along with the main character. In this intensely personal collection, he writes about relationships, sex, children, infidelities, guilt, and sometimes, the absence of guilt.
Lies I Never Told includes four new, original stories, one previously published short story, and the first chapters of his Amazon bestselling novel "My Temporary Life" and the follow-up "My Name Is Hardly".
This book is available on Amazon.