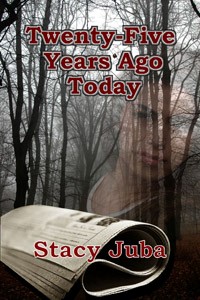 Twenty-Five Years Ago Today
by Stacy Juba
Genre: Mystery
Word count: 60,000
Should we dig for the truth when Pandora's Box is a coffin of buried secrets?
Kris Langley has always been obsessed with murder. She blames herself for the violent death of her cousin when they were kids and has let guilt invade every corner of her existence. Now an editorial assistant and obit writer, Kris stumbles across an unsolved murder while compiling "25 Years Ago Today" items from the microfilm. Determined to solve the case and atone for the death of her cousin, Kris immerses herself in the mystery of what happened to Diana Ferguson, a talented artist who expressed herself through haunting paintings of Greek mythology.
Not only does Kris face resistance from her family and her managing editor, she also clashes with Diana's suspicious nephew, Eric Soares – until neither she nor Eric can deny the chemistry flaring between them. She soon learns that old news never leaves the morgue and that yesterday's headline is tomorrow's danger, for finding out the truth about that night twenty-five years ago may shatter Kris's present, costing her love, her career, and ultimately, her life.
This book is available from Amazon, Smashwords, and Barnes&Noble.
Stacy, how did you come up with the title for your book? Does it have any special meaning?
Since my protagonist, Kris Langley, stumbles across a cold case while researching her 25 Years Ago Today column, I named the book Twenty-Five Years Ago Today. It holds special meaning as I once had the same job as Kris and one of my tasks was compiling the 25 Years Ago Today column.
Who was your favorite character and why?
I liked writing about Kris as she has had such a difficult life and I wanted her to finally find self-acceptance and fulfillment. She genuinely cares about other people and puts their needs ahead of her own, yet she's not perfect. I was rooting for her and I hope readers do also.
Does your book have any underlying theme, message, or moral?
I use parallels from Greek mythology to highlight the themes of guilt, redemption, and hope. Kris has been a prisoner of her own guilt and must confront her inner Furies. The story of Pandora is used to illustrate the importance of having hope even when things look bleak.
What would/could a reader or reviewer say about this book that shows they "get" you as an author?
Veronica Marie Beaumont of The Romance Reviews hit on all of the themes when she said, "Ms Juba builds a suspenseful mystery that also manages to delve deeply into the complexities of family dynamics, grief, guilt and forgiveness."
Give us an excerpted quote from your favorite review of this book:
"I found myself carrying it with me whenever I thought I may have a few minutes to read while waiting on something… this book stayed in my head even when I was not reading it."
Where can people learn more about your writing? 
Website: http://stacyjuba.com/blog/