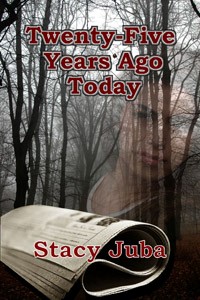 Today we have a sneak peek from Twenty-Five Years Ago Today, the mystery novel by author Stacy Juba.
Kris Langley blames herself for the death of her cousin when they were kids and has let guilt invade every corner of her existence. Now a newspaper editorial assistant, Kris stumbles across a 25-year-old cold case. Determined to solve the mystery, Kris becomes obsessed with solving the murder of artist Diana Ferguson. Not only does Kris face resistance from her family and her editor, she also clashes with Diana's nephew Eric – until they can't deny the chemistry flaring between them. Finding out the truth about that night 25 years ago may shatter Kris's present, costing her love, her career, and ultimately, her life.
This book is available from Amazon, Amazon UK, Smashwords, and Barnes&Noble.
Here is an excerpt from Twenty-Five Years Ago Today…