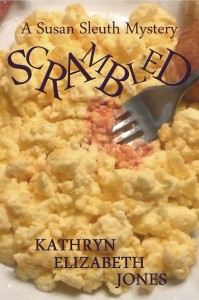 Scrambled
by Kathryn Elizabeth Jones
What happens to an unhappy woman who leaves her husband only to discover that she may have just made a terrible mistake? So horrible, her choice threatens to end her very life?
Susan believes that the grass is greener on the other side. Not that her current life is bad, necessarily; it's just boring and lifeless, kind of like the old matted rug on her dining room floor. Susan thinks her marriage has just grown – well, old. Her husband, Bob, has gained tremendous weight and continues to gain, and his health suffers. She must work at a job she hates full-time to provide the little sustenance they have. He, on the other hand, works very little (because of his health) and prefers spending his days watching television or surfing the Internet. Besides, there's her problem of not getting pregnant that can't help but contribute to his unhappiness.
Can Susan continue to live her life at the hotel knowing that she might be killed herself or imprisoned for life? Will she be able to find the real murderer with the help of the eccentric Ms. Martha Boaz?
Scrambled is available through Amazon.com, Amazon UK and Barnes & Noble.
And now, an excerpt from Scrambled:
Six months later a thought occurred to her that the fat man had been the catalyst; her last straw, her wake up call.
"Are you open?" the man had asked. His voice had been deep and yawning like the Grand Canyon.
"Of course." She looked up. The man was fat—even more endowed than her own husband who'd gained a mere seventy pounds since their wedding day 20 years ago. Fat oozed like soft butter from his great waistline. His black and white checkered shirt, though buttoned, gaped to his belly, revealing a matted mass of hair. She tried not to stare at it. The word "pig," came to mind.
"Did you find everything all right?" she asked.
"Just ring me up," he growled, scratching his unshaven face. "I have an appointment."
If someone had said, 'Make a wish, Susan," she would have wished for freedom in that moment—freedom from the customer, and all those to follow; freedom from her horrible job and marriage, freedom from unavailable friends and broken down cars. She would work a bit somewhere else, and then travel to some exotic location. Perhaps Paris or Hawaii…
"Miss!"
Susan felt the crisp dollar bill in her hand. "Sorry, sir," she said, handing the disgruntled customer his change. She watched his back-end leave the store. Blubber, bump. Blubber, bump. Blubber, bump…
It was the fat man who had finally given her the courage to take care of herself for the first time. Perhaps it was not a conscious choice, but it was definitely a choice. She left work that day never to return, got on a bus, leaving her rotten car in the parking lot—her fat husband wondering where she'd gone. She hadn't looked back.
Occasionally, like today, when the hotel lights burned deeply into her skull, and her eyes felt heavy from the tasks of serving, she would remember. The terrible times when she tried to get pregnant. His anger about her job, or the way she folded his underwear. She would think about the way he spoke to her; hardly, and then, harshly, as if the words he had meant to say to her long ago needed to come out now in one heated rush.
Also, the short moments of tenderness—her broken-down heap of a car that had still managed to get her to work, the doughnuts and candy bars that always made it into the kitchen cupboards and then quite naturally were fed by him into her open mouth—because he always shared what he bought for himself. All those moments that made her life one with him. And now she was left with an aloneness she couldn't begin to understand.
*     *     *     *     *