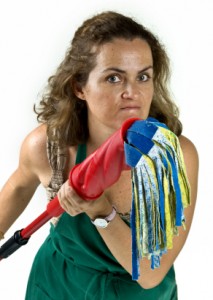 Beta readers are like gold. They are awesome, generous people who give their time to help you work the bugs out of your manuscripts before you publish. Just like anyone else you enlist or pay to help you finalize your finished product, it's a relationship that works best when you have mutual respect, cooperation, and good communication. I've been a beta reader and have had my manuscripts read by them. During that time, I've learned that there are six guaranteed ways to ruin that relationship and drive the poor betas up the wall:
1. Be really vague about what you need
Long ago, I gave one of my early manuscripts to a beta reader. Something was wrong with the story, but I didn't know what it needed; therefore, I didn't know what to ask. So my feedback ("I liked it") was about as good as my questions. Some beta readers are experienced and thorough, often not needing more than your manuscript. But most, and especially if you're working with someone who wants to help you but has never done this before, need a bit of coaching. I use a questionnaire that I tailor to each project, depending on my concerns. So don't be afraid to ask for what you want. Does the title fit the story? Does the end feel satisfying? Does this narrative arc make my butt look big? Well, you get the idea.
2. Send several rounds of revised files…while the readers are still reading
Once you ask a beta reader to help you, e-mail the file. After a few days, during which the reader has most likely read a fair chunk of the manuscript and possibly made extensive notes about your less-than-sticky opening chapter, decide that you want to tinker with a couple of sentences in Chapter Six, make the protagonist a pro-golfer, change his name to Marvin, and send the reader the revised file, telling him/her to toss out the first one and read that one instead. Yeah. Who wouldn't love that?
3. Are you done yet? Are you done yet? Are you done yet?
Most beta readers do not charge for their time. They do it because they like the challenge, want to help the author, want an advanced read of a story, or a myriad of other reasons. They have lives. They often have jobs, partners, children, ailing parents, dogs that haven't yet learned how to walk themselves. Communicate up front about your expectations. Once you've agreed on a timeline, DON'T keep contacting them "just to check." Find something else to do. Work on your marketing plan. Start writing the next book. Alphabetize your spice rack. Of course, if it's "go" time for the next stage of your publication schedule (which you've both agreed to up front) and you haven't seen any input, a polite request is in order. And vice-versa. If you know life is getting in the way of completing the beta read in the timeline you'd agreed to, let the author know.
4. Get defensive about their findings
This is the first rule of Constructive Criticism 101: By asking for constructive criticism, you've entered into an agreement with the giver of said criticism that if the feedback is indeed constructive (and not a recommendation to change careers) you will not shoot the messenger. You have asked for a sample of reader feedback, albeit a very small sample, and you are getting one. If it might require a huge change to your story, ask your other betas (which is why it's often a good idea to have more than one) what they think. Try to avoid getting into the mindset of choosing the option that means less work for you. You're trying to make the story better, after all.
5. Get defensive about their findings…on social media
Want a quick entry in the Hall of Authors Behaving Badly? Grind on your betas' opinions on your FaceTwit page. Yeah. That'll make you a lot of friends. And just see what happens when you ask for another favor. Crickets. Or, in my neighborhood, cicadas.
6. Don't thank them
Yeah, that's okay. I gave up a week of time I could have used to write my own novel or catch up on episodes of Mad Men so you could ignore me completely once I handed over my carefully worded comments. That's okay. I'll just sit over here in the dark.
Have you been a beta reader or had people beta read your work? Let's hear about your experiences. And remember, this is a family-friendly program.