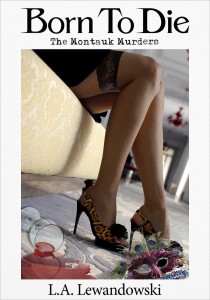 Born to Die: The Montauk Murders
by L.A. Lewandowski
Genre of this Book: Murder Mystery
Word count: 80,000
Born to Die – The Montauk Murders is set amongst the glitz and glamour of the Beau Monde. The 80th birthday of Miranda Richards, an art-world icon, boasts the party of the summer at her exclusive mansion on Long Island. Old resentments and convoluted relationships bubble to the surface as an eclectic, A-list cast of characters celebrate at a Masked Ball. The luxurious trappings of success, however, don't hinder the agenda of an invited guest with a score to settle. Friends and family are left to wonder— Will I be next? Follow Detective Steele as he sifts through the evidence before the killer strikes again.
Born to Die – The Montauk Murders is available for Kindle on Amazon.com and Amazon UK.
Lois, how did you come up with the title for your book? Does it have any special meaning?
The title is about cruelty. Some people will never have a chance to live a long life. Their life will be snuffed out before they can really live. I love Montauk N.Y., and vacationed there as a child.

Who was your favorite character and why?
Miranda Richards is my favorite character. I admire a person who is not confined by convention, and lives their life with zest. Miranda is an artist, and looks at each day as an opportunity to create. She had a group of muses, the Paint People, who inspire her. To her, they are as real as the guests that dine with her at her much talked about dinner parties.
Does your book have any underlying theme, message, or moral?
There is no underlying message in the book. My goal was to write a book that I would enjoy reading. I filled it with fashion, a posh mansion, and a cast of characters who dine on fabulous food. It is a good beach or bathtub read.
What would/could a reader or reviewer say about this book that shows they "get" you as an author?
My female characters are mature women. They have full lives, have experienced love and loss, and are smart and accomplished. I would love for my readers to enjoy that I don't portray women as weak, even when they are wearing Marchesa or Prada.
Give us an excerpted quote from your favorite review of this book:
"Twists and turns around every corner and the murderer was definitely a surprise. I had no clue."
Where can people learn more about your writing?
http://cultureandcuisineclub.com/