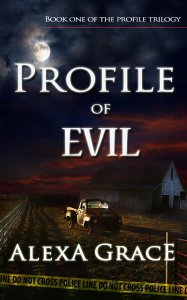 Profile of Evil
by Alexa Grace
Genre: Police Procedural
78,674 words
There's a serial killer in Shawnee County, Indiana, and Sheriff Brody Chase needs to stop him. As the body count rises, Chase discovers the victims had a social networking site in common. If their killer is an online predator, then Chase knows it's only a matter of time before another teen is abducted, tortured, and murdered. He calls in former FBI profiler Carly Stone for assistance.
The clues, and Stone's profile, point to someone close to law enforcement – perhaps even someone they know. When the latest girl goes missing, Sheriff Chase and his staff will have to use all their skills to stop the most terrifying killer of their careers.
Profile of Evil is available on Amazon.com, Smashwords, Amazon UK, and other online retailers. Continue reading "Book Brief: Profile of Evil"